THE GOAL
Higher Number of Startups, Vibrant Startup Culture in your College, and NIRF Rank
K3 Plan
The K3 Plan is a 3 Step Plan aimed to achieve the above GOAL. Briefly-
Do you ..
Want faculty who can bring in Grants?
Want Consultancy work from reputed companies to your Engineering College?
Want more number of startups from your students?
Want 100% admissions?
Want high quality admissions?
Want high grade peer review from your Industry Experts?
Want talented Professors to work for you?
Want your Department to become the Leader and other Departments in your college to follow you?
Then this is for you.
The K3 Plan is a integrated, sustainable, NIRF aligned, no investment, Higher ROI Plan which you have been searching but unable to find. All these years you have been going from one year to another hoping to have a more stable growth soon.
K3 Plan will change all this. Below is an outline of the K3 Plan and below you will find a list of FAQ. Do not skip that. If you have any questions do call.
Step 1 –
Lays the foundation, optimizing biggest asset of a educational institution, working with the faculty, initiating subject matter specialists, choosing subjects, deciding department thrust areas, deciding institution thrust areas, marketing the K3 Plan to faculty, briefing management on the steps ahead.
Step 2 –
Running the K3 Plan, building on data pyramid, bringing placement department into the loop, concept of data pyramids, the foundation of digital asset and digital footprint, incentivizing faculty participation, internal ranking of departments, involving engineering students, initiating startup activities, e-Club, ideation, competitions for startup ideas.
Step 3 –
Awarding participation, awarding excellence, social impact initiative, conducting thrust areas based events, initiating industry connect, laying the foundation for active internships for all students of the institution, full fledged mentoring for startup activities, monitoring of K3 plan.
Note: The specific steps and action points will be clearly given to the Principals and Managements of Institutions.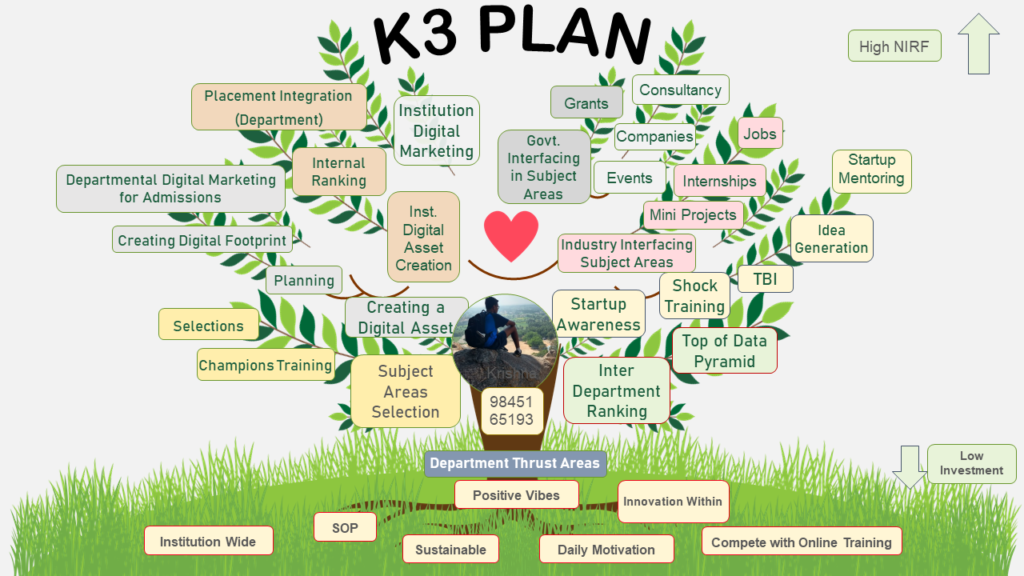 My Service
Free Consultancy to Engineering Colleges to achieve the above GOAL
Why is it called the K3 Plan or Formula
To signify we need to go back Back to basics. It is also a tribute to Kapil Dev who brought a complete change in Indian Cricket, bowl means bowl fast, and bat means hit big. Essentially, by facing the reality. The 3 in the K3 Plan is because the plan is a three step plan.
India needs many such plans for reaching Modiji's dream of a 5 Trillion Dollar Economy. (China $12 Trillion, USA $20 Trillion, India $2.6 Trillion – note: should be weighed against population).
NIRF will do the same for India – it will lay the foundation for sustained growth and a qualitative change.
So, all educationists know this, college management know this. Govt. is focused and everyone is NIRF seriously.
Are you?
Here are the details of the K3 Plan:
Background
With the Introduction of NEP and NIRF rank for Engineering Colleges the Govt. has set in the Pyramid system of competition.
In this system, all the colleges in India compete, and 200 top ranked colleges get listed and the first or the top 100 are the special category premium colleges, and they get to be eligible for research grants (which is substantial) and so on. The pool of colleges included are of all categories – Govt. funded, Govt. aided, private, and minority colleges.
The NIRF rank is a comprehensive system, and is evolving continously.
In due course, experts expect it to be gold standard for all colleges and all students and parents will consider this rank to admit their wards.
The beauty of the NIRF system is self declaration. When an Institution does this it is time for self introspection. To meaningfully participate you need to be independent and NOT COPY other colleges in your basics.
The NIRF pyramid system is a fluid system so one college which is in the top 200 may slide off or exit the top 200 if it fails to grow. It is compete – Always. So, the foundation has to be strong and the core strategy has to be sustainable.
The NIRF system is verifiable and wrong and faulty declarations can be verified and penalized. Two colleges have already been penalized. Not naming them here, as I do not want to cause any further damage to them.
However, there are many positives to the system and experts believe all other evaluation systems will be withdrawn over a period of time.
Two important outcomes which are evaluated in the NIRF rank are Startups and Jobs.
My services are aimed to increase startups and also train your students to quickly get a job, if possible in the third year of their course.
This will result in a higher NIRF rank and trigger other goals such as interaction with Industry and leading Institutions in India and World.
What are the highlights of K3 consultancy services?
Let me briefly tell you about myself.
I am techno business consultant.
Which simply means, I create solutions and plan of action for targets or goals, for:
Startups
Companies (Defense)
Engineering colleges
The solutions and plan of action, I create are technology driven, and result focused.
This translates to – you will see technology as the foundation in the solution, and steps linked to results and targets, which becomes obvious, as we run through the plan of action. All you need to do is be patient, unassuming, and wait for the first few steps of the K Formula to roll out.
Further, the K Formula has the following advantages:
Colleges with existing infrastructure stand to consolidate
Low new investment, use existing resources
Boost participation across departments
Create high quality startups (reduce immature ones)
Students more attractive to potential employers – faster recruitment
Sustainable
Self driven
I have worked closely with two engineering colleges, before the pandemic, several faculty have accepted the solutions and as the pandemic wears off and colleges return to full activity, I will be consulting with many colleges in India.
I have not discussed the K3 point plan of action on this page as it is meant for Principals, Vice Principals and Managements of Colleges.
If this is interesting, call me : 98451 () 65193 or email : k.vkpub at gmail.com and lets have a discussion, on how I can support and help your institution.
We will also discuss, the contents of K3 Formula – the three important slides which make up the K3 Formula, and how it will lay the foundation to take on the technology and Engineering Institution al changes happening all over the world.
The First Slide
Overview of NIRF, its importance, and relevance. How the country is moving to a ranking system.
The Second Slide
Complete Overview of K Formula, the 3 Step Formula, and how to survive in a ranking system. Why you should be doing what you are doing and add the K Formula to your system. How to make it sustainable.
The Third Slide
What is needed to put the K3 Plan into action.
Give me a call let us discuss.
As I said, my services are FREE.
Long term benefit of K3 Plan:
A Good Friend of mine, a forward looking person suggested that spending time and effort on Engineering Education is a waste of time as it is a sliding industry.
May be he is right.
Partly, I feel because, as a whole the industry is dying, but we have to remember institutions have to survive and serve the nation. Meaning transition will happen.
The K3 Plan sets the foundation for the transition in the following two ways:
Drive the transition of what is taught and learnt in Eng. Colleges
Setup the base for a startup driven research and innovation (patents)
Adopting the K3 Plan will help Eng. Colleges to get ready for changes which are coming.
Frequently Asked Questions:
How long will you come to our college to implement the K3?
3 Months to 6 Months – afterwards you are on auto pilot. Subsequently, I will be available, on need base.
Do we need to make new Investments for the K3 Plan?
None.
What will be your role in implementing the K3 Plan?
Complete in charge. Solely responsible.
Do you need assistance from our faculty?
Yes. One key faculty and one K3 Champion from each department.
Do we need to pay you?
NO! It is FREE.
Will you arrange your transport?
No.
College will have to arrange for transport. Pick up and drop. I do not want to go back home walking! Probably, you too would not want that.
Do we need to provide Lunch?
No, I will bring my own.
When we will start seeing signs of positive outcomes?
2-3 months.
Can we measure outcomes?
Yes. Depends on Department Goals set. If the Goal is Number 1 Place in internal ranking, then, you will see the positive vibes in couple of weeks and results in the first evaluation.
Will you implement the K3 Plan for only one department in our college on a Trial Basis?
Yes.
Our college has its own culture and ethos, will K3 affect the same?
No. It will accentuate.
Have you implemented the K3 Plan in other college?
In SJCE Mysore, the plan originated in consultation with senior Professors and Director. In VVCE, Mysore it was partly implemented, paused due to Pandemic.
Our college is not doing well at all, will you still help us?
Yes. Certainly. I search for such challenging assignments. I have noticed Gratitude is more in such colleges.
What do we need to start off?
Desire to compete, and work smart. Also, each department needs a Goal, Vision, and Mission.
And, a never say die spirit.