Product Description
Do you want this banner in front of your college? ADMISSIONS CLOSED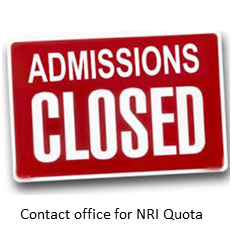 Then take this quiz. Answer the questions and mail me your replies.
I will send a detailed report on what you should do to get 100% ADMISSIONS for your Engineering College.
1. Is your Eng. College a data generator?
2. Do you compromise on fees from students? Do you reduce on requests from various sources?
3. Do you have a Pre Incubation Center?
4. Does your college find it difficult to get Ph.D. guides?
5. Do you have subject matter specialists? How many?
6. Do your faculty have digital assets?
7. Do your faculty have a digital footprint?
8. Do you have a TBI director?
9. Do you participate in private ranking systems?
10. Do you have a separate accreditation documentation team?
11. Do you have corporate connect based on subject matter specialization?
12. Do you advertise heavily?
13. Do you conduct events based on thrust areas?
14. You want your students to score ranks. Are you as an institution ready to score NIRF rank?
15. Do you find it hard to get good grade faculty?
16. Is the ideation quality from your students poor?
Tips to answer the Questions:
Single line or a single paragraph of 3-4 sentences are okay.
Every college has its own culture. This reality will be factored when analyzing your replies.
All emails should be from Principal's email id. [To ensure no pranks]
This is a FREE service.
Mail to k.vkpub@@gmail.com [remove the additional @]
Please send your replies in a word file.