Product Description
"When a Teacher Learns the Whole Nation Learns" ….PM Modi, India
Yesterday, a post appeared in my Linkedin feed, about a Professor in MSRIT Bengaluru regarding a talk to be given by her on Liquid Antennas, under the ATAL FDP initiative. The title of the talk is 'Flexible and Wearable Antennas: Recent Advancements, Fabrication Techniques and Applications'.
This event is being organized by the ECE Deptt. of NITTTR Chandigarh.
I thought I should congratulate the concerned Prof., and so here I go.
Firstly, let me explain why I am congratulating her.
Relatively early in her career she has started giving talks on a specific happening technology subject.
The subject chosen is in demand and state of the art technology, for which large corporate companies are investing huge sums to create and offer their range of products. Kudos, for choosing such a subject.
The operative part of the talk "Advancements, Fabrication Techniques and Applications" is very useful for companies which are working on such antennas or, antennas are a part of their product. Kudos again.
She has not forgotten to include the institution she is working for, which finds a mention in the post.
Importantly, Kudos for coming on to linkedin and promoting her talk, for which there was no need. The host institution normally does it. This also shows her confidence in her knowledge of the subject.
Kudos, again to her for responding to all the replies posted in response to her post.
We should also note that MSRIT, along with few other Engineering colleges are open to the idea of their younger faculty, take leadership roles.
The Professor, who got my attention is, Dr. Sweta Amit, of ECE, MSRIT.
Please read this post to know more about Dr. Swetha Amit's work and the social media post:
https://www.linkedin.com/posts/dr-swetha-amit-459a5b31_antenna-rfengineering-activity-6722831876182163456-bhkv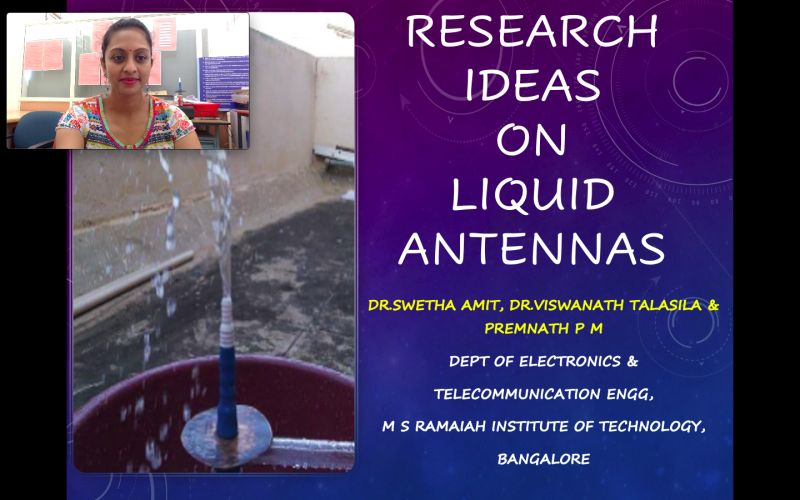 I should also congratulate Mr. Vinoth Manoharan Communications Head of Wilma, Chennai, for establishing a connection right there after seeing the post on his linkedin feed.
You may be wondering, why am I congratulating faculty who is giving a talk? Many faculty keep giving talks.
Let me give you, a little bit of background.
As a consultant, my Job is make Engineering Colleges Create a vibrant startup culture in college and get a higher NIRF rank.
To achieve this goal, I have been advocating Thrust Areas Focus, Creating Subject Specialist Faculty within the Thrust Areas, Creation of Digital Asset for each Subject Specialisation to colleges as tools to compete in the Engineering Education sector.
Each of the above are important, but let us discuss about Creation of a Digital Asset.
Why is it important?
Simply because, for an individual faculty and for every college, digital asset and digital footprint is going to determine your success.
Digital presence is of two types. One, static content. This happens when your digital content is permanent in volume and value, and changes are unrelated and miniscule.
Two, is dynamic digital content. This content is one, which grows in volume and value, has incremental growth corroborated by mentions in the digital space, and attracts social media traffic.
So, any entity if it wants to compete, has to have a digital presence and digital footprint which is dynamic.
I believe all our engineering faculty are capable of contributing towards dynamic digital footprint of the institution.
The next key point, it is very important for younger faculty to step onto social media and network in their subject specialisation.
I see these steps happening in the Engineering Education Sector, wherein younger faculty, not necessarily Ph.ds, specializing in a subject of immediate relevance and interest, are giving talks and lectures, posting and promoting their content on social media and connecting with Industry.
If you look at the number of positive responses, in the post mentioned by Dr. Swetha Amit, and the varied responses, you will see what I am saying. This is an encouraging sign. People are eager to consume such content.
The Govt. of India, AICTE is encouraging faculty to give talks but, it is the responsibility of the colleges to leverage it for their benefit. To leverage this support by GOI, colleges will have to take a series of steps.
The first step is selecting Thrust Areas.
The next step is mapping Faculty Subject Specialisation to Thrust Areas.
The third step, which most colleges have not recognised, is to create a Dynamic Digital Footprint for each of the subject specialisation.
You may ask, why are Thrust Areas and Subject Specialisation Important?
Firstly, AICTE encourages all Engineering Colleges to focus on Thrust Areas. So, for college managements, confirming to AICTE requirements is a big plus.
Second, if we do not encourage younger faculty, in the age group 30 yrs to 40 yrs, to acquire subject expertise, we will be doing a great disservice to them.
Next, thrust areas and subject specialisation, contribute towards higher NIRF rank.
Next, faculty with subject specialisation will foster increased number of great startups in the institution.
Next, specialisation leads to innovation. Innovation leads to patent culture in the institution.
Next, this is very important for the engineering institution. With a bit of digital innovation, colleges can convert these subject specialist digital assets into marketing and publicity tools to get increased admissions. Importantly, colleges will get students who are ahead of the curve and know at an young age where they intend to begin their career.
Next, rightly chosen specialisations by faculty, can lead to Govt. interest in the institution. Agri related, food preserving, food processing, disaster management, are few of the many areas Govt. will be interested.
If you are a Principal of an Engineering College, initiate steps to get faculty in your college to select a subject area specialisation and start working on a dynamic digital asset.
If you are an Engineering College faculty, select a subject, which the Private sector is interested in, the Govt. is promoting, and start working on your digital asset.
So, the next obvious question:
How do we make "Thrust Areas Digital Initiative" a Super Success?
First and foremost, is the right selection of "Thrust Areas and Subject Specialisation". Selection is entirely dependent on location of the institution, faculty profile, size of the institution and the goals of the institution. Ideally, selection should be done keeping the Govt. interests and focus, as well as the Private Sector in mind.
Faculty should be encouraged to create a "Subject Specific Digital Asset", using easily available and cost effective tools. Chronological progress of the Digital Asset is a key for success. The earlier you start the better for both faculty and college.
Faculty should be trained to create a "Credible Digital Footprint". Credibility includes, original content, clear content, subject specific neighborhood, strong social media footprint, and importantly citations.
Faculty should be encouraged to create "Varied Content" while focussing on their "Subject". Including, text, pictures, videos, animations, quizzes, and lectures.
Faculty should be encouraged to involve Students in their "Digital Content Exercise".
Faculty should be sensitized to crediting the "Institution and Senior Professors" in all their social media content.
Colleges should create a system which encourages faculty to regularly "Update their Digital Asset with latest Developments". HODs can be the managers who will grade the content.
Students contribution to the "Digital Asset" can be given minor credits. For the purpose of exposure to students.
Colleges can create a "Aggregation of Digital Asset Plan" to set the foundation for digital marketing.
Each faculty should be encouraged to connect with 10 Private Sector Companies which are in the same "Area of Subject Specialization". Imagine the number of companies you can connect.
Each faculty should be encouraged to connect with the related Govt. Sector Institutions which are in the same "Area of Subject Specialization".
Alumni should be encouraged to form "Common Area of Interest" and connect with the faculty for a win win result.
Needless to say, faculty who enable "Strong Industry Connect", via their subject specialisation can be given credits and recognition.
It is very important that the initiative is given a unique name. My suggestion is "My Digital Asset".
Initial introductory lectures have to be "Conducted Department Wise" so that faculty volunteer and start participating in the initiative. 25% participation in the first round means the initiative is successful.
Expression and articulation is very important for faculty in today's "Online World". This initiative will lift the average online expression skills and talent of all faculty contributing positively to the institution.
Evaluation of the performance of a faculty can include "Digital Asset Performance".
The main institution website can recognize a high quality digital update, on its main website on a daily or weekly basis.
The rest is left to your innovation and interest. The possibilities are numerous.
The overall theme is "Become Creators and Not Just Consumers".
Need guidance of how to conduct and leverage this initiative?
Do not hesitate, Give me a call, we will discuss and I will help and assist to make the initiative successful in your institution.
The best part of this whole exercise is, it comes with no big cost for the institution!