Product Description
Dear Principal,
For good reason we all have great respect for Principals, whether it is College or School we went to. I am sure it must be the same for you.
They were the distant men and women, not accessible, have attained the pinnacle of knowledge, and elder wise men, respected by all teachers of whom we were generally scared or in awe.
The Principal was above all. But, they all are people who stepped forward, took additional responsibility and steered institution forward.
So, the respect.
Today, their job has not become easier but that much more harder.
We all know the call "Arise, Awake.. " was given by Swami Vivekananda.
This was in late 19th Century. We were still under British Rule, rather in the midst of it, caste divisions were being promoted, there was no signs of freedom struggle intensifying, and things were not good for India.
Swamiji had been to Europe and USA, he had probably seen how the countries were progressing and in comparison India was sliding back.
It was in this background that Swami gave the Clarion Call.
Let us fast forward 2021
Let us look at the Challenges facing Engineering Colleges today. The challenges faced today by Engineering College Principals and Managements requires inspiration as much as that generated in Indians by Great Swami Vivekananda.
Let us look at the reality today.
The first reality we need to look at is the Govt. of the Day. Because, it is the Govt. which sets the tone for all initiatives.
This Govt. unlike all previous Govts. wants to compete on the world stage and wants its citizens also to compete. It believes in the capability of its citizens.
By participating aggressively in the "Ease of Doing Business Ranking", a worldwide ranking system, the Govt. has signaled to the world that it is ready to compete.
So, it is natural that it expects all its citizens also to compete. Colleges included.
So, for the Colleges it simply means one thing. No going back to a secular, laid back, accommodative, education monitoring system.
Colleges get ready, Big Brother is serious.
Now, the challenges
Let us list each challenge one by one.
Changing Technology Landscape
This is in itself is a big challenge. Combine it with others and it is a handful. Colleges have to keep running and keep pace with technology to teach the relevant topics, which students are looking for.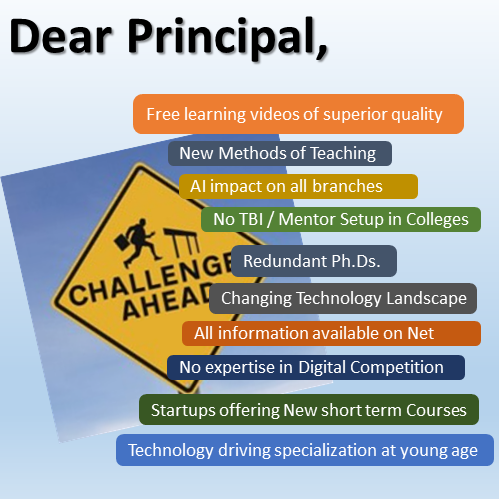 Startups offering New short term Courses
Audacious startups are cropping up offering laser focused, short term job oriented courses throwing a big challenge to colleges. Do not, take this lightly, dear Principals. It is going grow sooner and bigger than you may expect, further affecting admissions.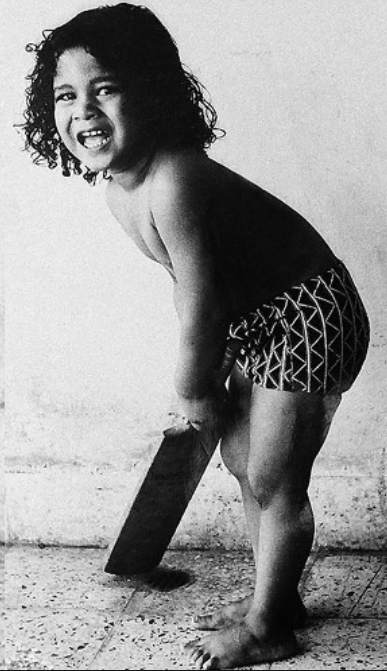 Technology driving specialization at younger age
Technology has done one amazing thing. It has enabled youngsters to explore new possibilities across the board.
Falling computing device prices has resulted in easy access and enabled competition to spread far and wide. Youngsters are dreaming big, and working for big money, and this has broken all barriers.
While earning was expected from 25-26 yrs on till recently, today, it has dropped further down.
There are many startups registering their startups at 18-19 yrs.
Redundant Ph.Ds.
The big issue for college managements is to align Ph.ds. with their current goals. Some of the Ph.ds. are redundant in today's application world, thereby throwing everyone into a mess.
There is no best way out but to optimize to the extent possible, by having Phd.s, with today's requirements.
AI spreading to all branches
Every branch is being impacted by Artificial Intelligence, Machine Learning, and Automation.
This is putting a huge burden on the college managements in drawing a balance between theory and application in every branch, by including AI related projects and subjects.
TBI / Mentor Setup in Colleges
Colleges are now expected to have a pre incubation center, and a full time TBI In Charge. Though it does not cost much for the colleges, they are having second thoughts on going this way, thereby incurring huge opportunity cost.
Falling admissions due to lack of confidence in Engineering Education and the Degree
Due to continued negligence, students have steadily lost confidence in the education imparted in most of the engineering colleges. Coupled with lack of jobs, students find it increasingly pointless to obtain an engineering degree. Colleges have to do much to get their interest back in the new emerging world.
New Methods of Teaching
Needless to say new methods of teaching have emerged. In the near future, individual AI driven online teaching is on the horizon.
This is putting further strain on the already stretched out faculty.
All information and available on Net
With all information available on the net, the information provided by faculty has to be updated and relevant. This is one of the outcome of K3 PLAN.
No expertise in Digital Competition
College managements think that advertising on youtube, facebook or google is digital strategy. They do not know or are aware that this is only a small percentage of digital strategy, which includes digital asset and digital footprint and Data is the new Gold.
If Data is the new Gold, Colleges are the new Goldmines.
How can Principals meet these challenges?
I am of the opinion that every Principal, I mean Principal of every Engineering College in India is aware that there is not one but many a big challenges, requiring a modern digital based strategic solution.
So, the first thing they need to do is sit with Managements, and discuss frankly.
Next, try multiple strategic solutions.
Next, along with the participation of all faculty, arrive at the best solution and implement the same.
In simple words, Arise, Awake, and Do Not Stop………………………Dear Principals.