Product Description
This elderly lady, who does not know her age, my guess is she must be above 80 years, is a living lesson in Marketing.
Let me cut back to 2010.
A few weeks after we moved in, Giriamma knocked on our door asking whether we would like to buy Coconuts. My first reaction was typically, No.
On second thought, I said the coconuts may be old. She said they are fresh, and then and there the learning started. She followed it up by "Have a Look".
Lesson No. 1. Over.
I said okay, give me one. In the meanwhile, my wife came checking out who has come and whether the coconut is usable. Green signal.
After a couple of days she came again. This time her pitch was simple. "Do you want one?"
She knew the marketing concept of repeat customers. Lesson Number 2. Okay.
On her next visit, I said, give me two at one time so that you can cut one visit. She is an old person. My idea was to help her by cutting down her visits. She said fine. Lesson Number 3. Let the customer choose. Okay.
After a few weeks, I asked Giriamma, why is she selling coconuts? Does she have children? This is her story.
"I came to this village after marriage. I have looked after my children well. Now, they are independent. I do not get to see even my grandchildren. I stay independently, cook my own food. A businessman lets me sit in his cement selling stores shop, essentially, just to keep a watch, and pays a small amount as monthly salary".
I took pity on her and marveled at her resilience and outlook to life.
Let me tell you one thing. There is so much to learn from old people, especially old poor people.
It will make one humble. It made an impact on me.
During the pandemic, I did not get to see Giriamma for a couple of weeks. I just checked. I came to know she had to be operated upon for an operation. The villagers pooled the money and got her operated. She has lots of goodwill with her social network. Lesson Number 4.
She is now hale and hearty, smile is back on her face. She is back to work. Lesson Number 5. Marketing is a daily job. You sell you get money.
Here is a pic of Giriamma, with her bag of 10 coconuts.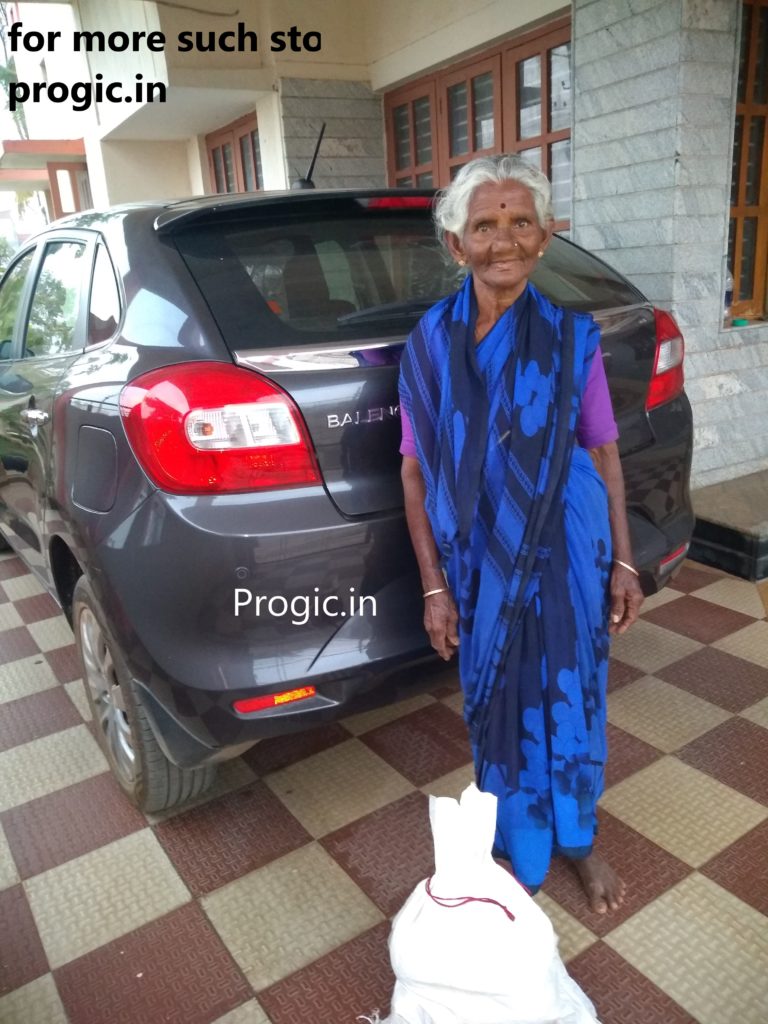 There are few more lessons Giriamma to offer.
Sometime back, I asked her to sell to our neighbors. She immediately responded they haggle a lot. Lesson Number 6. Avoid troublesome customers. She grades her customers!
I asked her, why does she not sell other products?
Her answer was, she cannot walk in the sun, so she finishes her rounds before 8 AM. Lesson Number 7.
I have noticed that she will not plead. Lesson Number 8. There is no point. She needs repeat customers. She cannot afford to loose a subscriber.
A few weeks back, I told her the two coconuts you sold us last are not yet consumed. She said with mischievous smile – Do not bother. Lesson Number 9. Take a No with a smile.
Please share, and tell about Giriamma. Let us become a nation of entrepreneurs proud of our products and services.
Lastly, occasionally she checks on my wife on son.
She is a good person at heart.
I do not feel like leaving MYSORE.