Product Description
It is election time. The time when we as citizens of this country, try and analyse the performance of the Govt, to decide on whom to vote. [My sincere request: Go out and vote. Make a statement.]
As energising educational institutions is one of my areas of interest, I will try and put in perspective in this article what the Govt. has done to promote educational institutions.
Is the political leadership justified in self promotion claiming it has done a lot in the education sector? Has it done enough or at least done anything to build and get India perpetually out of dependence on other countries to build factories and companies?
My opinion is at the end, after a brief analysis and an overview.
A bit of history here. After Independence, when our first Prime Minister came up with the idea of the Public Sector companies such as HAL, BEML, BEL as modern temples of India this implied an acceptance that the Indian private sector is not a capable lot. This was amply disproved as soon as the Govt. liberalised the economy.
The above step ensured that the British education system was left as it is, and real world skills took a back seat.
So, it is a good thing that finally the Govt. has recognised that there is no other way but to encourage and train students to either become scientists or acquire real world skills to build homegrown startups.
The Government of India is pretty serious about streamlining engineering education in India. In the last four years a number of steps have been taken to bring engineering colleges on par with if not the best, at least the better ones in the world.
Let us briefly look at the state of engineering education in India. In a recent interview, Chairman of AICTE Prof. Anil Sahasrabuddhe revealed that around 300 engineering colleges were closed in the last few years as they did not measure up. This says a lot.
The fact of the matter is engineering colleges have become tutorial colleges over the last 20 years. Proceeds from fees collected and grants have been diverted to other business interests and in the process college managements are staring at nil core competency and unable to undertake the streamlining process being insisted upon by the Govt. of India. Instead, if the colleges had invested in equipment and modern technologies they would have been in better shape.
As you read this article one thing will be obvious that the Govt. has reposed a lot of trust in the capabilities and competencies of the managements and engineering colleges. The steps initiated reflects the Govt.s trust on the capabilities and abilities of colleges.
This is a really heartening point to note. Without this approach it is not possible to strengthen engineering institutions.
The foremost step taken by the Govt. is the ranking system. The ranking system is comprehensive and expects institutions to combine theoretical knowledge with practical excellence which relevant to today's requirements. The National Board of Accreditation has a set of rules which every engineering institution should follow and get approval before associating with a university. Implementation of these rules has become very strict in the recent past thanks to the new management at AICTE.
The student feedback system about the faculty is a key initiative and it is very bold in its character. This will challenge the colleges and their way of working as feedback becomes the basis to change. Speaking and teaching skills will come to the fore and students will learn to be more responsible as they realise that their voice is being heard.
The next aspect that the Govt. focus on Startups. Startup is a movement started in 2016 in India and signifies a 180 deg shift in how Govt. looks at the younger generation. Earlier Govt.s were not sure that the youth of this country can create startups and succeed. So, they supported companies which were more of body shopping companies or off shoots of public sectors. The ancillary projects, vendor development programs and so on, which created more problems than solutions.
The Govt. announced the Startup India program with a bang. As I went through the details I could see that a lot of preparatory work was done before launching the program. The website Startup India is a single point information system for all startup related matters right from IMB certificates to funding to mentoring. The clear and concise information presentation on the website is a departure from the past. In the earlier days, rules were always hazy, open for different interpretations, leading to corruption.
It is important to note that the Govt. has created a separate website and program – BIRAC
dedicated to BioTech startups which is a smart thing to do. This website too is done very well and can be seen here BIRAC. My only grouse is whoever is the webmaster should have hosted with ssl certificate. On this website, you get all information regarding funds, schemes, etc. A useful sections is BIRAC Publications section from where I have downloaded useful documents and papers.
Under the "Startup India" program there are many competitions such as Startup India Competitions and Hackathons.
It is important to recognise that the Make In India program is a kind of an umbrella program for all the startup activities and Industrial initiatives. Major sectors are listed in the Make in India website, Tip: Startups can use this page as a reference when planning their startups.
The other big initiative is the Study in India initiative. Details of this initiative are mentioned on the website and the information is comprehensive. While the Startup India program is under the Department of Commerce & Industry, the BIRAC program is under the Department of Science & Technology, the Make in India is under the Ministry of Commerce & Industry, the Study in India program is under the Ministry of HRD.
The study in India program is intended to motivate colleges to compete internationally and get students from foreign countries to study here.
Another interesting program is the Innovation council which is now mandatory in all colleges.
Plans and initiatives are one side of the story. The question that will be asked is what have been the outcomes? Let us now list some of the important outcomes and analyse them.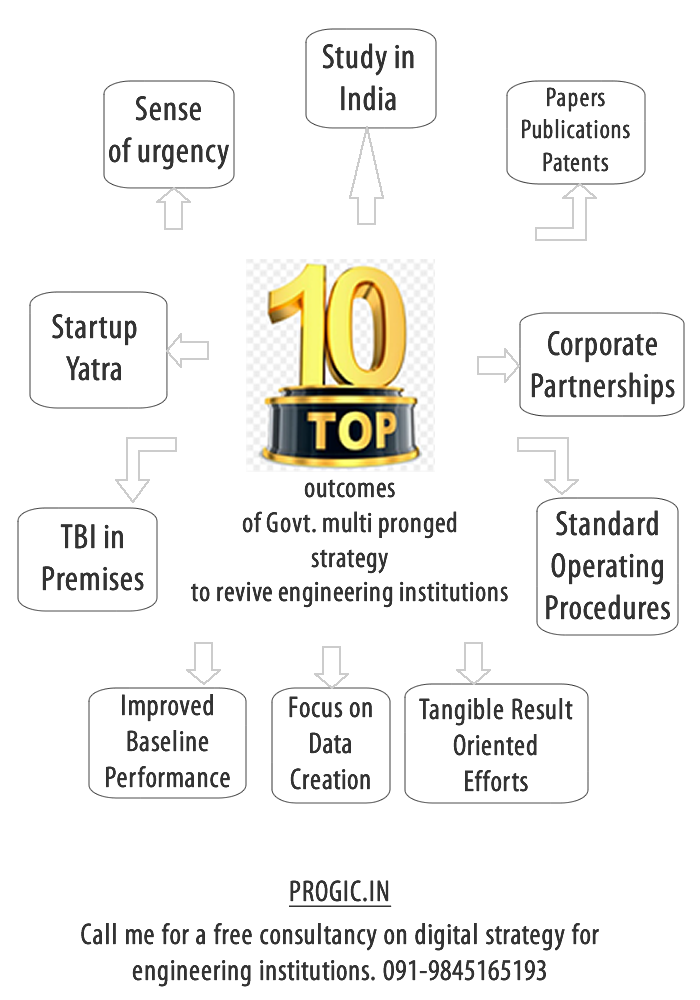 Outcome 1:
Thanks to Startup Yatra which travelled all over India and promoted the Startup India competition, awareness of startups among students has increased. The spin off has been a number of colleges have organised IPR lectures and made students and faculty aware of the benefits and seriousness of startups. Money speaks and the student community has woken up to the opportunities in starting up.
This is a big thing, as students are the catchment base for startups.
Outcome 2:
Enforcing the rules and punishment has resulted in 300 colleges were closed in the last few years. This has put the engineering and polytechnic colleges on notice and put a sense of urgency in the functioning of the managements of engineering colleges.
Outcome 3:
The Study in India program has made college managements realise that showcasing the college to foreign students is of utmost importance. International students expect a certain standard in terms of facilities, faculty, spoken language, extra curricular activities, corporate exposure, state of the art labs, medical care, etc. I have a couple of colleges ask me how to get foreign students to enrol. My answer is simple – make it attractive to them in all possible ways and market smartly.
Outcome 4:
Papers, Publications, Research, and Patents, this is the mantra of colleges. The key thing here is research is an exercise which students in India are not exposed to at all. Our system is text book based learning. So, where is the answer? The wise thing to do is encourage students to start small and then scale up. A smart way to conduct the entire exercise is explained here: Energising Engineering Education.
Outcome 5:
Corporate relationships. Colleges are not yet aware on how to interact with corporate companies. For instance, arranging internships in high performing corporate companies is an alien art for most colleges. Colleges are now taking baby steps to commence serious partnerships with corporate companies.
Outcome 6:
Compulsory Tech Incubation (TBI) facilities in premises. Colleges are beginning to realise that on this score the Govt. is on par with the world trend of startups. Corporate companies are encouraging and investing in their own startup incubator and colleges have to speed up to keep pace. The day is not far off when students will pick colleges which have the best startup facilities and mentoring program.
Running and managing a TBI is not a loss making proposition in the long run. In two to three years a TBI can be a self sustaining with a combination of services, such as German language classes, training sessions, entrepreneurship classes, rentals, and investing in startups.

Outcome 7:
Optimising resources and efforts. AICTE insists on standard operating procedure in all the important activities of an engineering college. This will bring in quality of operations as everyone in the institution knows the procedure to be followed to do specific important tasks.
This is a practise followed by corporate companies and it is a good development.
Outcome 8:
Tangible result oriented efforts. Patents and patent marketing. Number of publications and patents are now an important criteria in an engineering college. And, getting papers published in reputed journals, and products and process which are worthy of getting patents requires a higher level of work by the institutions. Involving meritorious students is important for pursuing excellence.
In this aspect, I have an advise to engineering and medical colleges. Do not aim for the sky when going for research and a patent. There are many products or processes which are right in front of you and not very obvious for which you stand a better chance getting a patent.
Outcome 9:
Data creation – do not run after ideas, run after data. The time to go after data has arrived. Data is the new gold. Look for ways to monetise the data at the institution level. Your students are the best resource to create data. It is in the pursuit of creating data that new ideas are born.
I offer free consultancy to colleges to create a digital strategy, for their engineering and medical institution. I will advise on creating a strategy that is student centric, no cost for the institution, and can be the base for international marketing, i.e.., getting students from foreign countries and competing with the best colleges. Call me or email me to adopt a viable digital strategy.
Outcome 10:
All of the above should result in improved baseline performance as practical aspects take equal prominence with theoretical excellence.
I strongly believe that only theory should have no ranking. This single step can change how we move forward to create top class students.
So, is this present Govt. eligible to seek a second term based on their performance in the education and startup sector?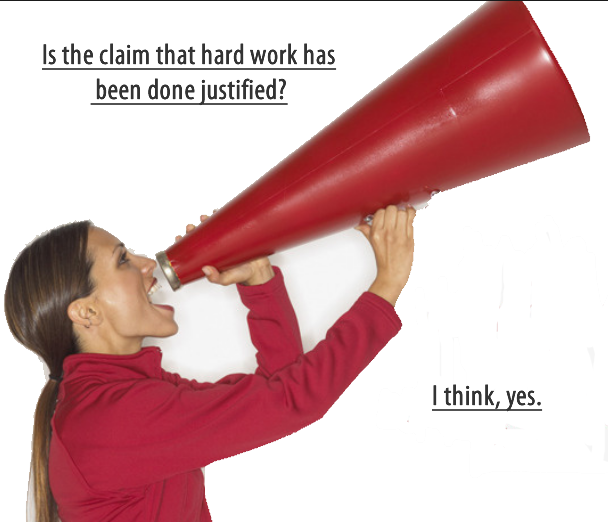 Yes, my vote is positive.
What do you think? Kindly comment below. And, send this article to your friends who care about education.