Product Description
A few days back a good friend of mine a promising young Professor sent me this picture.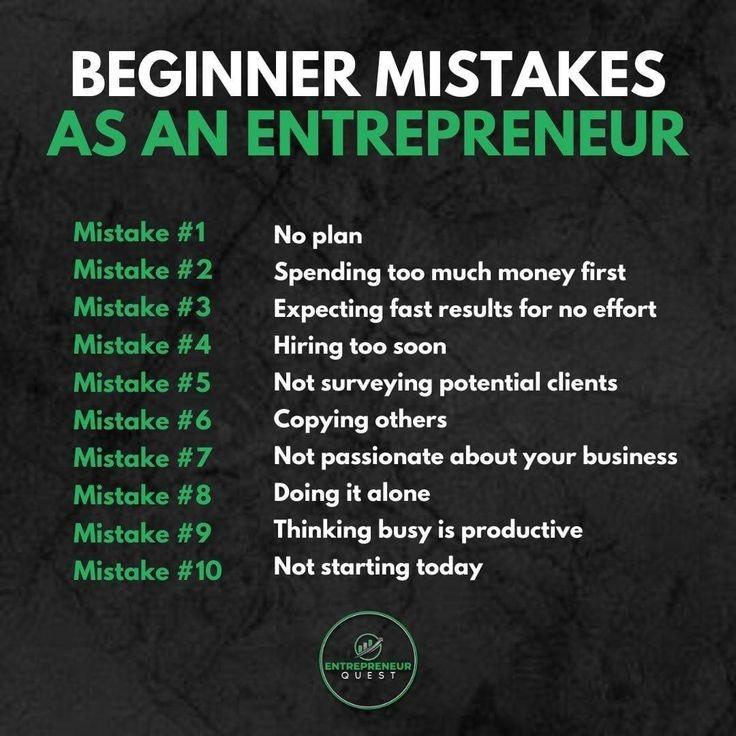 This is a perfect example of how not to motivate Startup founders.
I texted back – All Wrong.
The good Professor has not texted back.
Let us take each one.
Mistake #1
No Plan.
All startups founders have a plan. They won't reveal it unless the listener has their trust. Please note all startup founders are smart.
Further, no human will reveal an idea if they are even 50% sure they have a good chance of earning money.
Mistake #2
Spending too much money.
There is no such thing as too much money. He/she will spend if there is a perceived gain. Too much money or too little is a grandma approach.
Mistake #3
Expecting fast results.
Startup founders should expect fast results. He is not a scientist!
Mistake #4
Hiring too soon.
Most silly. The market forces will determine the timing.
Mistake #5
Not surveying potential clients.
Surveys cost money. A client needs a product to test. Or a proof of concept to respond.
Mistake #6
Copying others. Startups should be ready to copy what is good for them.
Mistake #7
Not passionate about business.
Mistake #8
Doing it alone.
Why not?
Mistake #9
Thinking busy is being productive.
Youngsters of today are smart enough for recognizing this.
Mistake #10
Not starting today. I really think the person or persons who created this list are amateurs'.
Now that I have given my critical comments on the above list it is my responsibility to give my list.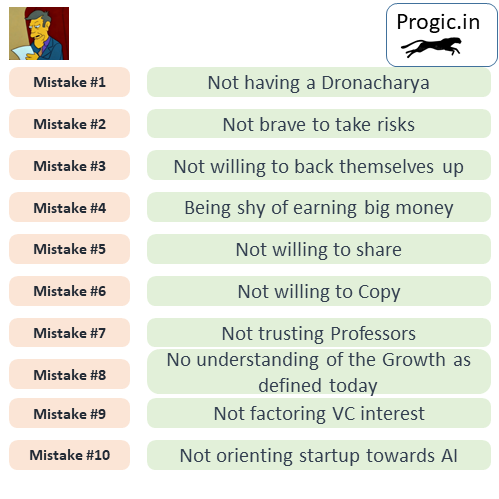 Mistake #1
Not having a Dronacharya.
Mistake #2
Not brave to take risks.
Mistake #3
Not willing to back themselves up.
Mistake #4
Being shy of earning big money.
Mistake #5
Not willing to share. Not having a plan to share.
Mistake #6
Not willing to Copy.
Mistake #7
Not trusting Professors and not knowing how to utilize their expertise. Not giving back to college.
Mistake #8
No understanding of the Growth as defined today.
Mistake #9
Not factoring VC interest.
Mistake #10
Not orienting startup towards AI.
Want to know how to increase startups in your Engineering College.