Product Description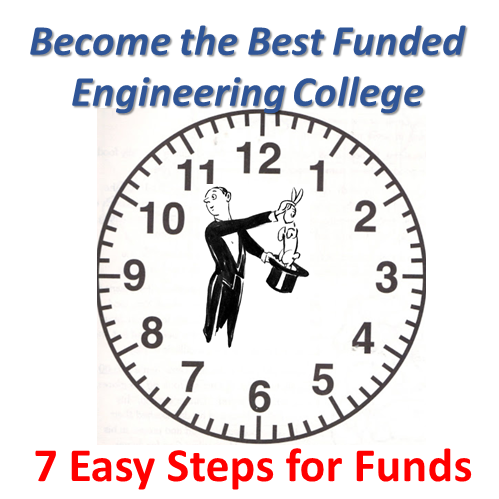 There is nothing wrong in trying to get Grants for your College Department. Be, open. Be aggressive. No Prof. can get this with a slight of hand. You need clear and an integrate approach. A Prof. can get you for one time, a sum of say Re. 20 Lakhs or Re. 30 Lakhs. The approach coupled with a comprehensive K3 Plan (FREE!) will get you Crores of Funds and Grants.
However, it is naïve to expect Grants and Funds, without showing evidence that your college deserves Grants. Gone are the days of FREE money which can be diverted.
If you are ready to move into a NEW World wherein you perform and win, read this article. Otherwise, please do not waste your time, as the steps outlined here can only adopted and followed by sincere, hardworking nation building Teachers.
First let us see the sources of Grants
Ministry of Education
Corporate houses
Entrepreneurship Board for your College TBI
Secrets of Getting Grants
Firstly, you have to make your Engineering College Department be socially relevant. To be relevant, in true sense of the word, your Department has to be engaging Govt. departments, Corporate houses, in relevant focus areas of the Govt.
Please do not take all your students and enthusiastic faculty, go and clean a village and think that your Department is socially relevant.
What you should be doing is work and come out with a project and technology which will make periodic cleaning of the village easy and effective.
When you do this, you will have three things on your hand.
Evidence that your technology is working, even if partly
Peer review
Startup ideas
Let us discuss another example.
Smart city projects are kicking off all over the country. Underground electric cabling is being done. How many of your Faculty are involved in this exercise? At least does your electronics department know this is happening today?
I am sure your there will be one or two cases of such work in your college. But, that is not enough. It should be department focus. Not INDIVIDUAL faculty usually a senior or to retire faculty.
If you are wondering how to reach a stage where every department is ready to receive grants from all three sources listed above follow these steps.
Before, we get to the steps let us clear the idea of research, innovation and patents.
Let us be clear on one thing. The above requires huge funds. And, great minds, not the standard of Albert Einstein, which is impossible. Most of the colleges do not have the resources to create such Professors. In fact, most of our colleges even IITs do not have that standard.
Why am I bringing this up here?
Simple, to know the situation first hand and face it honestly.
So, what next?
The Govt. of India and Corporate houses and premier Engineering institutions know this and are willing to support honest efforts. This is a step in the direction.
My advice to you is, copy what I have listed below, and communicate to a senior Professor in an Engineering Institution such as IISc, or IIT and let them know what are your planning and the SOP you are following, and write to Ministry of HRD, you will get a positive reply.
Even AICTIE will give a positive reply.
I suggest, you do it at the department level.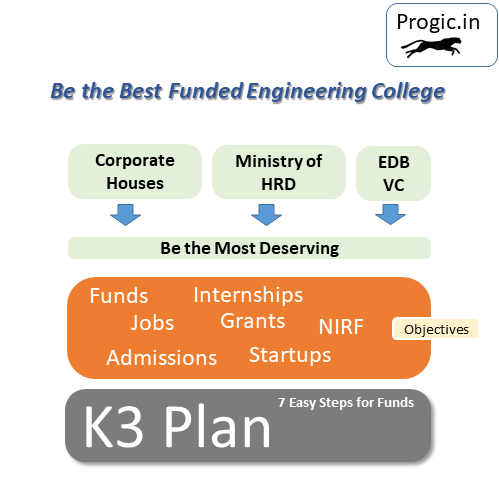 So, let us start with the steps.
1. Create Department Thrust Areas
Choose wisely. Discuss, debate, and argue. Include your younger faculty – you will see fantastic points.
2. Create Subject Matter Specialists
Do not waste your faculty by making them teachers. The age of Teaching Colleges is going away. Information is free. The next wave is low cost online education.
Insure your Department and College by becoming much more than a teaching college. DO Not bet on just one or two senior Professors and hope they will do the trick for you. It is not going to happen.
Choose subject matter wisely. Let me know if you need some tips.
3. Get Each Subject Matter Specialist Create a Digital Asset
This has multiple benefits.
Relevant specialists, in pace with the trends
Socially connected
Aid in digital marketing
Attract students with Subject Interest ensuring enthusiastic students
Motivated faculty
Easy Connect with Peers Worldwide
Get Each Subject Matter Specialist Create a Digital Footprint
Ensures your department is imparting education using the most current technology.
Also, ensures sustained digital marketing support to college. How to convert, let me know and I will give you tips.
4. Build
If you have done the above properly, give everyone in the team of each department a minimum of 4 to 6 months to acquire familiarity. To ensure a proper direction you may want to have a specialist to assist.
5. Start Corporate Connect
As the build phase begins to end, you can commence corporate connect. List the companies you want to contact. Choose smartly. One criteria could be turnover above 25 Crore. Add more criteria. Be Creative.
Have a department wise placement officer who will do the twin duties of corporate connect, placement and intern support.
6. Start Govt. Connect
With Govt. change your strategy. Be more socially relevant in your narrative and approach the Govt. You will see today's Govt. is very responsive.
7. Start TBI Connect
With students interacting with subject matter specialists and if these subjects are chosen smartly, you will see students come out core start ups.
With just 5 core startups you can get funds from Govt. and Corporate houses also.
The next step is the Proper Pitch and follow up.
For this form a team of a corporate man and a professor and move ahead. The corporate man will take care of the last mile service. You know what I mean.
Your college will be flush with funds. It is my guarantee.