Product Description
USA has announced an innovative and smart H1B Visa system transiting from a lottery based system to a more fair AI driven system. Analysts are saying that the key point in the new system is the salary being offered and paid to the H1B applicant.
I can visualise desi consultants working frantically ways to game the system, which may be a bit difficult as salaries paid can be verified using software. Thereby holding companies accountable.
So, in one stroke multiple objectives are being achieved. Both merit being encouraged and protection of American workforce.
Likewise, multiple objectives, is the focus of this article…
Are you spending a heavy amount on ads, particularly digital and social media ads such as Facebook ads, Google ads or other ads, to promote your college? Are the returns as high as promised? It is high time you ask yourself this question or else you may end up spending more and more, year after year with no respite.
In this article, I will tell you how to publicise and promote your engineering college free of cost and save tons of money in your ads costs.
Assumptions:
You are interested to grow! Who will not be?:
Which means hard work and compete aggressively with other engineering colleges.
Which means teamwork.
Which means well thought out quick decisions.
Which also means sharing rewards equitably among Principal and HODs.
And, you want to achieve multiple objectives.
If your answer is yes to the above, read on..
Pre-Requisites
Each department should have a Thrust Area, each thrust area driven by one or more faculty – for example a faculty in the CS or IS department is focussed on Sensors in Agriculture. Another faculty in the Mech. department may be focussed on, Aerospace Component Manufacturing, and so on. Very important. This is a must.
Management fully supports thrust areas initiative.
For a faculty strength of 200 a minimum of 40 to 50 are willing participate to give the initiative a boost.
You have a responsive website.
Does your college tick 'yes', to at least some of the above? Then, you have a head start compared to others. Your college can take a big leap ahead.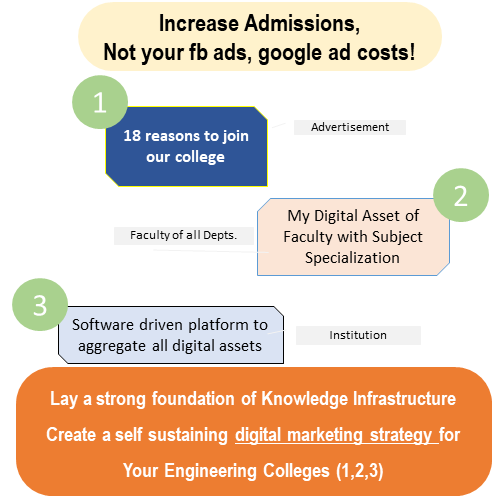 Implementation:
Step 1: List 15 + Reasons for students to join your engineering college.
This is the first step.
Do a thorough research and list 15 + reasons why youngsters should join your college. Rope in all enterprising staff, faculty of different branches and management during the brainstorming and research. Keep in mind, parents and students role when you do the research. Both parents and students take a final call on which institution to choose.
I have prepared a list titled "18 reasons why students should join BKCE". You are free to use this template. But, build your own unique list.
The listed points should be truthful and transparent. They should not be pompous and boastful.
Parents should be able to verify anyone of the points randomly. For every point verified during enquiry, you can be assured you have increased your brand equity by a Brand Equity Unit (BEU) successfully.
Notes regarding the list:
List the order cleverly, making sure points do not seem same, this can happen if the text is not articulate.
Use pics carefully, to make reading sticky.
Use sharing links profusely.
Discuss about current topics profusely.
Avoid highly complicated words and concepts.
Use career opportunities, training and exposure initiatives.
Use hyperlinks wherever required reducing detailed explanations.
Guide parents and students on whom and where to check if they have a question, from within the text.
Use embedded videos, do not lead visitors to youtube.
Step 2: Create a "Digital Asset" for each faculty.
Create an environment with a win win formula for faculty and institution in perspective. For a list of benefits and details of how to implement a Digital Asset for faculty, see the "My Digital Asset" Post.
The Digital Asset initiative is based on the premise that every college has faculty who can be interface points for industry channeled through the Placement or TBI in charge of the college. In fact, the Govt. DST expects TBI In Charge to take up the role of Industry coordination as listed on their website.
Back in late 1980's when working at GTTC, Mr. Sam Pitroda, then technology advisor to Govt. of India, had visited the facility in Bengaluru, Rajajinagar Industrial Estate. For those of you who do not know, GTTC is a Indo-Danish Project. The distinguished visitor commented:
"I did not know there is a Goldmine in our own backyard"
Similarly, most colleges do not realise that Faculty is their Goldmine. Colleges have to identify a professional who knows how to leverage the faculty gold mine with a win win narrative so that faculty actively participates. If you want to know more read the above article.
Step 3: Create a platform so that college owns the "Digital Asset" created by the faculty.
The platform has to be a software driven, which keeps a log of all the digital asset posts, comments – author replies and polls. Simple solutions can be incorporated so that Principal, Management can participate.
It is important that the digital asset initiative has to be thrust area based. This will set the stage for the institution to benefit.
Step 4: Use the platform to promote the college using clever event promotion tactics.
With the implementation of the platform, smart marketing initiatives can be taken such as peer networking, partnerships, interactive sessions, and joint consultancy.
To reduce FB, Google Ads, and Ads costs, search results have to be increased. This will easily happen as the digital assets will be on diverse hosts, discuss varied subjects, widely seen, fresh content and daily new user visits. This will boost page value.
And, will drastically reduce advertising costs and at the same time serve to build the brand image of the college.
Step 5: Involve students in the thrust area initiative by grouping students for each faculty. A big free marketing boost.
One viral post can bring thousands of views to the college website. Students can bring this traffic if they are involved in a creative and learning environment.
For that to happen faculty has to incentivised to engage the students in article writing and expressing their views. All this will happen in a thrust area resulting in students having to think and stretch their abilities to contribute.
This may seem like a small exercise, with a set of 5 steps which can implemented by an amateur. It is not so. Please follow the links given above to understand the depth of the initiative. This is an institution wide, engaging everyone in the college and will contribute immensely to uplift of institution vibrancy.
The Govt. of India has initiated a series of steps to put Indian Universities on the Global Map of leading institutions. A major initiative in a series of initiatives undertaken is NIRF (National Ranking of Institutional Framework). Any engineering education which breaks into 100+ ranking bracket gets an opportunity to avail a special grant for each of their faculty towards research work.
However, colleges have to do their bit to avail all the incentives and support being given.
The digital initiative which will unlock the dormant potential of faculty and will give the institution a knowledge infrastructure and the industry a major boost to counter the rapid automation happening in every sector.
Please share and like this post and info using the buttons on the left pane. Interested colleges will benefit.
As I write this article, Corona pandemic has not yet been resolved. Colleges have asked their faculty to take a vacation. This is the best time for colleges to implement this major initiative and be ready to go full throttle as soon as the Vaccine is found, and life is back to normal.
Post your comments and questions in the comments section below. I will reply. I welcome all questions regarding implementation.
All colleges can take up this initiative and benefit. It is not reserved for the navaratnas or some such categories.
Moot points:
Every engineering college, of all countries can take up this initiative.
It is time engineering colleges wake to being internally meritorious, along with expecting students to be rank holders.
In the event of Govt. of India expanding scope of NIRF and doing away with Accreditation, and making it self declared, then knowledge infrastructure will become all the more important. And, the digital initiative mentioned will be the bulwark of knowledge infrastructure.
As students look for self employment, the digital initiative, will be the foundation for students to interact with faculty with thrust area specialisation and come out with startup ideas.
"Listing of 18 reasons why you have to join…" will form the recurrent theme in your ads, but with periodical changes and improvements. Like the Amul Ad. Ad to ad, year on year, viewers should be amazed at the changes and improvements, which are projected through the ad and occupy the viewers mindspace. In the emerging trends, the target audience are 11th and 12th standard students of all boards, CBSE, ICSE and State.
As the Gig economy takes over it is very important colleges know how to package their strengths and advantage. The listing of reasons to join is a first step to train your students as well.
Timeline for results to show up. Firstly, this is not a quick fix admissions booster. For the initiative to take off, preparing the faculty takes up to 3 meeting per branch. Once, the initiative is launched it takes at least 12-14 months for boosting entire set of activities, like, industry interaction, project opportunities, admissions boost and startup ideas. This is the best way to achieve multiple objectives.
The successes of this initiative are many. However, as a publicity tool, and admission enhancer, it all depends on how one can use three digital assets, "reasons to join..", "faculty my Digital asset" and "the institution software platform". The implementation of entire exercise requires ingenuity, and there is no one size fits all solution. Each engineering college has its own unique character, and making this a success is a creative exercise.
If you have any questions do call me or post your questions below in the comment section.
Read this article for more: