Product Description
How to create more number of startups?
Every Engineering College is grappling with this problem. In this article, I have outlined a simple 6 point formula for creating more number of startups in an Engineering College.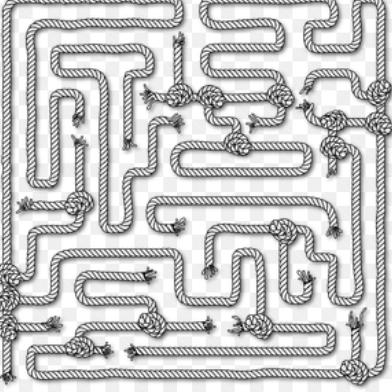 Let us look at the world scenario.
Engineering Colleges world over are under a lot of pressure to increase student startups. There is no getting away from this.
Reason?
Jobs in large companies are shrinking. Low level jobs are vanishing.
Automation is taking away repetitive jobs.
Please note this carefully, repetitive jobs are vanishing and those lost jobs are never going to come back.
So, there is a realization that many of the current generation have to succeed by starting up and growing.
As a result, colleges with higher number of startups are high up in the ranking order.
A typical college profile is also changing.
Flexi admissions, subject specialists faculty, learning not studying for degrees is the buzzword.
In such a futuristic college, theory classes are minimum. Average scores are high. Students are on the move. Extra curricular activities are minimal but whatever is done, is GRANDly organised.
One significant aspect of such a high ranking college is at least 50% of faculty are subject specialists. When I say subject specialists I mean subjects which are sought after and related to problems of the day. Want an Example?
Smart Cities, Sensors in Fisheries, ERP in Aerospace, AI in Organic Farming.
Google and you will find that deep specialisation is taking over in every aspect of our lives.
Leading Engineering colleges world over are embracing this model.
Knowledgeable educationists are advocating Specialisation as the foundation for future colleges.
Is your college ready?
In tune with what is happening, being an influencer is the way forward.
Select a set of subjects as specialisation areas, and strive to be an influencer and not a consumer and a follower, is my advice to Principals and College Managements.
Knowledge infrastructure is the foundation. Based on such a foundation colleges have to become influencers and not teaching colleges.
Having understood the importance of subject specialisation among faculty, as a catalyst for higher ranking and Startups, let us discuss the 6 point formula for dramatically increasing startups.
Management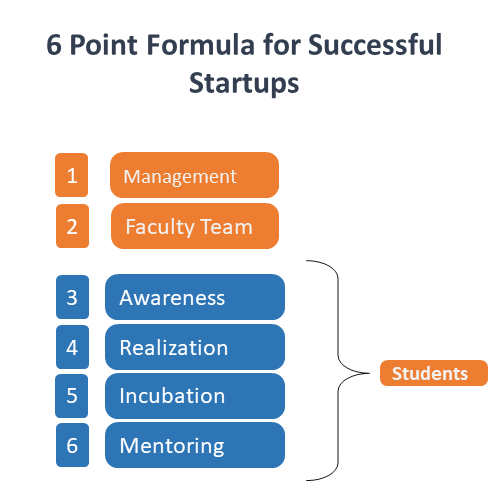 Management should be having an idea and plan regarding Student Startups. Most colleges are not yet realising that Startups are as important as publishing papers and research and patents.
In fact, from the admissions perspective, successful startups are a great admission draw.
How to present and design a Student Startup plan to the management?
How to measure the implementation of the plan?
The evolution of projects to startups and how to manage the evolution?
How to avoid run of the mill (ordinary) startups?
How to allocate time for startup work culture in the college?
These are all the questions managements will have to address.
It is very necessary that individual college management is aware of the steps being taken and the groundwork being done, even if the management is a supportive management. This is to ensure continuity.
Startup is not an isolated activity.
The 2nd point of the 6 point formula is:
Faculty Team
Let us divide the faculty as theory experts and practical experts.
Both are needed for creating successful student startups.
Without the support of faculty a successful student startup program cannot be implemented. In fact, if the faculty do not participate the program will be 20 -30% successful.
Subject specialists, both theory and practical specialists will be the catalysts to trigger student startup ideas. Please note this.
It has to be remembered faculty are the first contact for students. It is most likely students will ideate as they interact with the faculty on a subject concept or a problem facing mankind or society or Industry.
When the students discuss an idea, faculty have to be encouraging and guide the students towards the TBI in charge who being techno entrepreneur will help the students with incubation and mentoring.
Faculty team should have a fixed tenure, for say 1 year. Dropping out should not be encouraged.
Let us move to the 3rd point:
Awareness
With this step starts the process of active working with the students to create successful startups. Students from the first year onwards have to be made aware of the world of startups,
Why startups?
Technological reasons why startups are a necessity
Why is Govt. insisting and focusing on startups and particularly student startups?
Why Investors are interested?
How to evolve as a startup?
Which startups to avoid?
What are the options after starting up?
How to position for takeover or merging?
Students have to be made aware of the above in a gradual and scaled manner.
Feeding everything at once will not take anyone anywhere.
Students should also be made aware of how startups will help them to be successful employees.
Additional information which will help you is here:
These are two of the many more steps to be taken to make awareness a success. This program will run simultaneously with the next program.
Realization
In this stage, students have to educated on what qualifies as a startup.
If you observe, there is a gradual shift in narrative from the previous stage.
Mock exercises have to be done, at department and multi-disciplinary level to engage each student on their perception of startup and how the market is moving.
In one of the colleges I consulted, a student came out with an idea of an app which will help ladies in distress. The team had no idea that this is not commercially viable. Their proposal was -funds will be collected by way of charity. If charity is the source of funds, it does not qualify as a startup.
Realisation is a collective exercise, however, individual idea generation is important.
Students should not be afraid of discussing and being wrong on many things.
They should be made think out of the box and scale the idea.
Incubation
As students start coming out with viable proposals, colleges need to provide them with physical space to sit, work and nurture their ideas.
This is where the incubation center comes into picture.
The incubation in charge has to preferably be a techno entrepreneur. He/she will be able to nurture the idea and guide the students to convert the idea into a startup.
The incubation center is not only for the above purpose. It has multiple objectives. It is a meeting point for Multi branch students and students who are entrepreneurial should be the members of an incubation society started at the center.
The incubation center should have a discussion room, training sessions, lecturing sessions, and creative office atmosphere.
Mentoring
This phase is the last phase of student startups. And, the most important. Both for the college and the startup team.
Office space, funding opportunities, art of pitching, networking, building core competencies, creating barriers to entry, building a core team, managing finances are the skills which entrepreneurs are required to learn.
A TBI head, will act as a chief mentor and provide the mental space for the startup to build their business.
A successful startup can bring in unimaginable positivity in the college laying the foundation for booster shot in an ever changing and challenging engineering education environment.
How does the 6 point formula for Startups run?
So how does the 6 point formula for increasing startups run in an Engineering College?
The below picture depicts the details. Startup awareness begins in the first year itself. Runs through the second year. In the second semester starts the realisation activity. This activity can be repeated in the third semester also.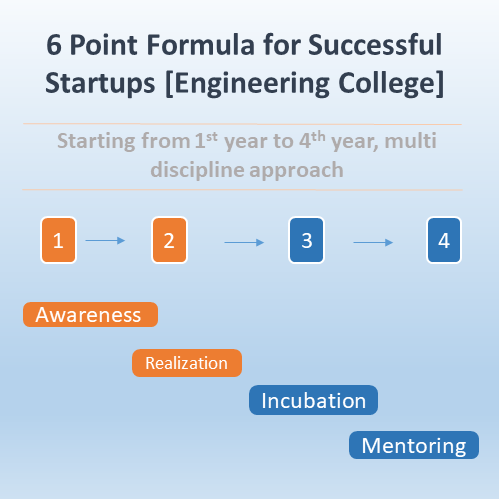 Realization exercise starts in the second year onwards. As a part of academic requirements students do a project. This is the window of opportunity. Increase the quality of the projects and you will have the foundation for great startups.
This is where the TBI In Charge role is very important.
Result oriented techniques can be employed in the awareness and realization stage for impressive outcomes.
Incubation and mentoring is a creative job like a movie director's job and it cannot be taught.
Good luck with your startup program.