Product Description
This article is an introduction to the MILLION DOLLAR ENGINEERING COLLEGE video which is available only for select audience.
If you have received an email from us, then you can be see the video by sending us a request to see the vide. This is a free video.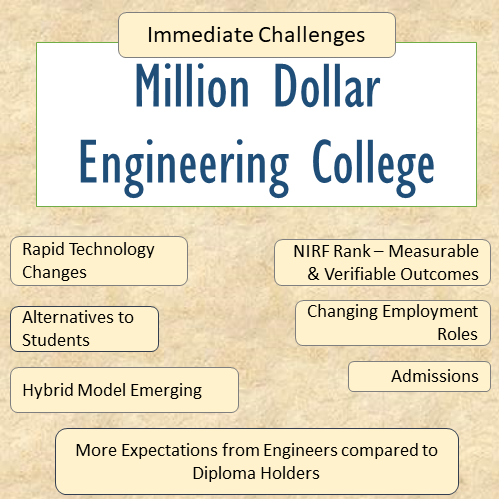 A Million Dollar Engineering College is one which has foreign students studying at any given point in time, across all four years of study in all branches.
The Govt. of India is encouraging Engineering Colleges to get more foreign students into the country to make India a hub for Engineering Education. Countries such as Australia, New Zealand, and Singapore have done quite a bit of work and succeeded on this target. UK, USA, Germany have succeeded on this target from decades.
Getting foreign students is beneficial in many ways for Engineering Colleges and I will resist the temptation to explain it here, as that is not the focus of this article.
This article about the building blocks of creating a Million Dollar Engineering College.
After reading this article you will find it easier to follow the secret steps to make your college a Million Dollar Engineering College Video. If interested, send an email to k.vkpub@gmail.com and I will send the link to you. It is free of cost to see the video. Video is available only on request to select audience like you.
Coming back to the article..
Let's face it. India's Engineering Colleges do not have the funds nor the resources to compete with the best Engineering Colleges in the world.
The only way is to hold on to the key strengths and capitalize on the same. As you will see in the video, all your existing resources are used and this keeps you away from new investments.
This article and the accompanying video, is based on the following Principle:
Strong Faculty – Successful Students – High NIRF Rank for College
Packaging:
A Million Dollar Engineering College is one which has packaged every service it offers to students in a manner which is current, impressive and value for money.
Every one of us package ourselves and every company packages itself, and your Engineering college too.
Even spiritual gurus (Sadhguru, SRI SRI) package their offerings professionally. See my article on Spiritual Startups for a commentary on spiritual startups.
By creating good packages the seller (can be college, company, Govt.) gets the best ROI for every positive aspect he / his institution has to offer.
In this article, I have outlined what are the building blocks of a Million Dollar Engineering College.
Technology:
Tech 2.0 is happening. Technology is mutating with Domain Knowledge and Domain Specific Technology is evolving. Examples are AI and Sensors.
Engineering college managements have to recognize this critical latest development and understand and appreciate this trend to develop a customized strategy to suit their own college. Just focusing on AI or Sensors will not work.
Rapidly Changing Education Landscape:
Granular Courses are appearing on the horizon which are completely job oriented. Days are not far off, when these courses evolve to become full fledged diploma's and are accepted by companies. These course conductors will collaborate with infrastructure owners to offer hybrid courses. Engineering colleges have to start working towards this hybrid model by offering online subjects in their present courses.
This way they will have a early mover benefit.
Changing Job Profiles for Freshers:
Companies prefer to recruit freshers with a potential to be productive from Day 1.
Hence, colleges will have fine tune their schedules accordingly, with startup orientation in the first semester itself. The goal is to have students think of their startups by the second year itself.
Students, on their part will have to decide career paths as early as 2nd year of studies. Mentoring by the placement section at this stage is recommended.
Startup Opportunities:
Startup opportunities are increasing day by day. This is bound to happen as technology permeates unchartered territories.
Student startups are also growing year on year. Note that majority of startups are by youngsters and Colleges will have to ensure that they are also a part of the startups by offering a bouquet of services to students and becoming a startup hub.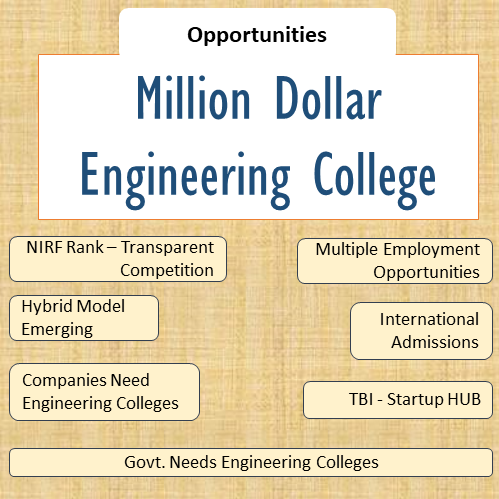 Growth Sectors and Sectors of Interest:
There are 100s of growth sectors in this world. But college managements have to be clearly aware of the sectors of Interest and rapid growth, particularly which will help the society in which they are located in. A key indicator is the Govt. interest.
On this score, the Govt. of India has announced various programs and all of them are areas of interest.
Thrust Areas:
Thrust areas are main larger sets which are the areas the institution as a whole focusses on. Resources, funds, and time are channeled to these thrust areas.
Subject Matter Specialists:
Subject matter specialists are specialists in subjects which are a subset of Thrust Areas. Careful division and selection is required to keep the selections are future proof.
Note that subject matter specialists need not be scientists. You know what I mean.
Core Competencies:
To ensure the institution has a higher degree of core competency, align faculty with their area of specialization and interest with the thrust area subjects.
International Tie Ups:
When I say International tie ups I am referring to tie ups with Universities, Companies and Associations
Getting International Students:
The primary goal of Million Dollar Engineering college master plan is to get students from other countries to study in your college.
If you have set everything and ready to take foreign students, then admissions is no problem for your college.
Standard Operating Procedure:
The master plan I have given to make your college a Million Dollar Engineering College is based on the principle that it is definable, transparent and can be monitored using data.
This makes the plan the best in class.
What happens if a Faculty Leaves:
All the digital content will be owned the Engineering College property and if a faculty leaves the content created by the faculty till that date will be owned by the college.
Digital Revolution:
Colleges across the board have realized that digital leadership is a must for getting students. Most of them spend huge sums on Facebook and Instagram advertising.
With the Million Dollar Engineering Plan, colleges can think of reducing their expenses and spend on focused ad spend.
Search Engine Leadership Position:
The key to 100% admissions is to have a search engine leadership position. With Apple coming out with their own Search Engine, the SE war is truly on and a leadership position for important keywords can lead to 100% admissions.
Data Pyramid:
College managements have to recognize the benefits of data pyramid and how to use these benefits to gain search leadership.
Data pyramids can be connected to thrust areas and using the Million Dollar Master Plan for Engineering Colleges a college can hope to compete with the best in the country.
Goldmine:
Successful colleges make use of their faculty to the fullest. Colleges lagging in admissions and ranking do not know how to do this.
In this master plan, I have detailed how you can leverage your faculty skills and knowledge to gain a leadership position in:
-Higher NIRF Rank (50 above)
-Industry Tie Ups
-International Students
-Organic growth
-High Quality startups
-Active placements
-Search Engine Position
and many more…

Video Link to the Master Plan on How to Become a Million Dollar Engineering College can be got with a request email to k.vkpub@gmail.com.