Product Description
OPEN LETTER to PM MODI JI
Dear Honourable PM Modi,
My respectful wishes to you on the occasion of upcoming Independence Day.
I take this opportunity to heartily congratulate all of us Indians, on the occasion of release of NEP 2020.
A completely new chapter has opened up in India's Education History and the pleasing aspect is the extensive focus on Teacher Training.
We are ushering in a Gurukul system, wherein the student develops an intellectual bond with the teacher.
As you rightly put it, when a teacher learns the whole nation learns.
With this statement as the driving spirit I have advocated and initiated "My Digital Asset" initiative in one Engineering College in Mysuru and have suggested the same to many national institutes and engineering colleges.
This initiative is in reference to Engineering Colleges.
The key objectives of the initiative are:
Create faculty who are subject experts
Select subjects, which are in line with thrust areas of college. Suppose, the college's thrust area is Smart Cities, one or more of the faculty can be a subject expert in Electronics for Smart Power Grids. Another example can be, college thrust area is Agriculture, one (or more) faculty can be a subject expert in Sensors in Agriculture. [thrust areas are recommended and envisaged in the NIRF ranking]
The faculty is guided to create a Digital Asset.
Leverage this asset, to be creative and write content which become tools to connect with the world.
Encourage students to participate with the faculty in building the digital asset for a year of their education. This will lay a strong foundation for students to build their own digital asset, and connect with the world. They will also understand how the faculty is interfacing with his / her peers.
This also helps the College, Department, Faculty and Students to be on the same page in this rapidly changing world.
College can leverage the Digital Assets of faculty and Students to rank high on SERPS.
And, also lower ad costs.
There are many more advantages, one of them being able to request and get peer reviews from subject experts in premier colleges such as IITs and IIMs.
Respected Sir, our colleges need a helping hand, to understand the importance of thrust area selection, faculty and subject experts, industry connect, and digital content creation. As a technology professional, I believe that this initiative is a simple but powerful tool in the hands of the faculty and institution.
I have envisaged this, and over the last couple of years and have written a series of articles which are here:
My Digital Asset [an overview and details]
Faculty FAQs [on My Digital Asset]
How should I package myself for success? [success tips for faculty using a Digital Asset]
Promote your College with your Digital Asset [benefits for colleges, by initiating the initiative]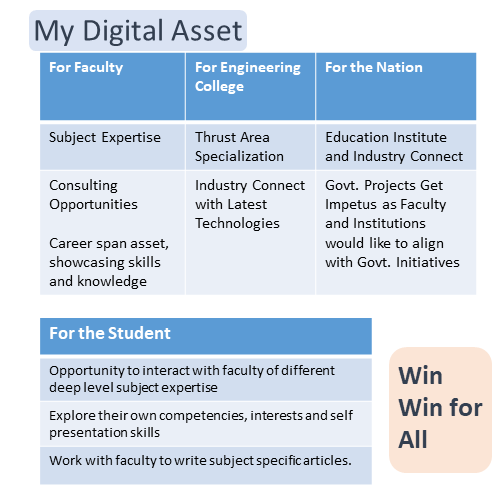 In the above articles, I have written in detail the benefits of the "My Digital Asset" initiative and its various aspects and how to go about it.
With the rapid changes in technology, and its impact on education, we are seeing a reality – one can learn anything from anywhere. They should only know how to search. The NEP 2020 is sure to motivate the students to be objective and think of charting a path which is best for them. With new startups coming up, offering courses which are highly focussed on jobs, existing Engineering Colleges will have to offer something far better value to survive. With corporate companies, accepting students with relevant knowledge and certifications, Colleges offering degrees have to stand up to the challenge.
In this context, the statement when a teacher learns the whole nation learns becomes the guiding principle and inspiration for Engineering Colleges and the Nation.
Faculty are a goldmine in colleges backyard. They are ready to be encouraged to become the agents of change and implement the NEP 2020.
It is now our turn, as citizens to take the opportunity positively, embrace the rapid changes happening and become the education hub in the region.
I once again thank you, from the bottom of my heart for ushering in the NEP 2020.
Sincerely,
Yours truly.