Who said India's startup ecosystem has been weak and continuous to be weak.
In fact, it is a thriving country for startups. Religious Startups.
This article will attempt to tell you clearly that startups in the religious domain in India have been active, have a clear strategy, and the brand building knowledge, which is essential for startups.
Cash rich, with a wide network of branches, large followers, these startups are sought after by powerful people.
In this article, we will list 9 most successful startups in the religious self help domain originating in India.
Before we list out the religious startups let us note some key points common to all.
All of the religious startups offer a better life to its customers. However, each one has a unique product, their own path, which is distinctly unique from the other which will supposedly lead to a better life.
All of them are competitors. Some may deny it. If you study how carefully they have designed to be distinct from others, how they are never seen together, how they never acknowledge each other, you will see how cleverly they market themselves.
And, importantly, in India, a religious leader or a sect, sprouting with reasonable number of followers is looked upon with interest as the number of followers and pomp give the leader a certain amount of credibility.
All of them market their products and courses. Yes, but is done very subtly. Have you noticed? Sadhguru appears frequently on TV and speaks on different subjects, attracting listeners to enquire about his teachings and his ashram. Some listeners visit. A percentage of them become devotees and offer support. Local economy booms, who in turn nourish the guru indirectly. Same with everyone of the religious startups listed here.
All of them know how to raise funds.This is a key skill which startups have to learn. But, note that you can never figure out how they raise their funds. The strategy may not be the same. Same with startups. Strategy varies with the product, the founders, and the market.
Religious Startup 1
Sadhguru
Original Name: Jaggi Vasudev
Headquarter: Coimbatore, Tamil Nadu
Website: https://isha.sadhguru.org/in/en
What is offered: Everything to keep you happy. Health, Wisdom, Community, Food Products, Yoga. All for a price.
Locations: Multi location, Spanning all Continents, Complete with Contact Details
Tidbits: Bhakts – Popular Film Actresses, Kangana Ranaut, Tamanna, Kajol, Software Business Executives, Ravi Venkatesan, etc. are his disciples.
This startup targets the upper middle class people and caters to a wide section of the society. The packaging, the exposure, is all aimed at the well to do, upper section of the society.
Religious rituals are conducted in a modern urban environment with less of ritual extremities.
Packaging of the food products and the stores which sell these products are in a rich environment and prices match the urban target customers.
Packaging of presenting its main face, the location, and the discourse language is all aimed at the upper middle class and also attracts the larger aspirational middle class.
A hugely successful religious startup, impacts large number of people, all this in the shortest possible time.
Religious Startup 2
Sri Sri
Original Name: Ravi Shankar
Headquarter: Bengaluru
Website: https://www.srisriravishankar.org/
What is offered: Health with a set of closely guarded breathing techniques and surplus dose of religious understanding. The breathing techniques come at a price and religious understanding and knowledge is free.
Businesses: CDs, Books, Ayurved Products, and Courses
The name of the starter pack "Art of Living" is selected very smartly. It conveys a message that this program can change your life. And, it has an undercurrent message with the word "Art". It conveys a supposedly higher quality of life, and the package consists of breathing techniques.
Guru Sri Sri dresses frugally but lives in luxury. More politically involved having actively supported the Lok Pal movement of Anna Hazare and the Ram Janma Bhoomi movement.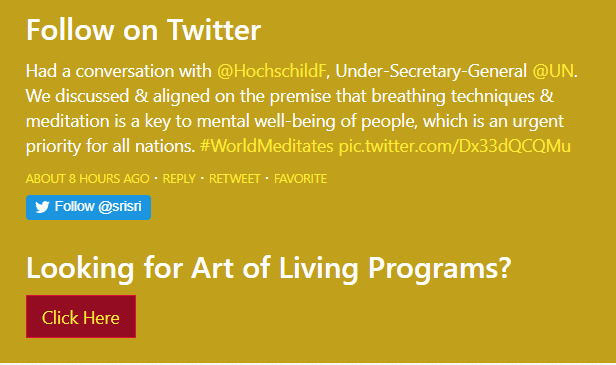 Observe the above section picked from the website of Sri Sri ashram.
It pointedly asks you whether you are looking for Art of Living programs with a "Click Here" button. That is perfect SEO.
Like Sadhguru, Sri Sri can speak good English, and at a much slower pace than Sadhguru, making an impact on the audience. Catering exactly to their target market.
Sri Sri has a subtle multi level marketing system, wherein an abhyasi, one who has learnt and mastered breathing technique taught by experts at the ashram, will become eligible to teach breathing techniques to others. A small guru, sanctioned by the master.
Both these Gurus, Sadhguru and Sri Sri advocate dancing, in its free form, with no restrictions or a system, sometimes leading to amusing scenes.
Sadhguru's focus is on Lord Shiva, while Sri Sri does not specifically focus on one God.
Sri Sri became famous for having provided solace to liquor baron Vijay Mallya https://www.rediff.com/money/2005/apr/08mallya.htm
Religious Startup 3
Puttaparthi Sai Baba
Name: Satyanarayana Raju
Headquarter: Puttaparthi
Website: http://www.sathyasai.org/
What is offered: Sai baba, when alive used creation of ash powder to gain attention and curiosity amongst people. Peace of mind, solace and security is also offered.
Puttaparthi sai baba is one of the earliest religious startups we can think of.
This sai baba, was talked about animatedly by ardent bhaktas, about his magical capabilities, how he could cure people, how he could conjure up material usually watches, rings, necklaces, etc.
He built an empire of sorts and a small town flourished based on the economic activity the ashram generated.
However, there is one thing you should learn.
There are no magical shortcuts to success.
Religious Startup 4
Shirdi Sai Baba
Shirdi Sai is a unique startup. The founders are the Sai trust members who managed to get the stories of Shirdi Sai Baba into people's mindspace. A remarkable success story because, Sai Baba was long gone, when the movement picked up. The wiki says Baba had a number of followers prior to 1960-70's. But, the real deluge of pilgrims picked up around this time.
So, how did the startups build the brand.
They were able to spread the idea, that one can build a temple for the baba, as he was long gone and this created huge monetary and economic returns for everyone concerned, as instead of visiting Shirdi, local centers were created.
Local temples cropped up, and as the ritual systems were simpler, (customers like simpler, smarter solutions and services) attracting regular people without any serious knowledge of temple rituals to manage the temple. In comparison to a traditional hindu god temple, whose rituals require some level of expertise.
So, what is there to learn here?
Franchises work! All you need to know is how create a value chain. Be aware, the structure of the value chain varies from product to product.
Religious Startup 5
Ganapathi Sachinanda
Name: Not revealed
Headquarter: Mysuru
Website: https://www.dattapeetham.org/
What is offered: Spirituality packaged better with a living godman piloting the startup, music therapy, rituals.
Ganapathi Sachidananda ashram startup is a straight-forward case, just like his discourses. All teachings of honesty, goodness, truthfulness are based on stories of mythologies, and easy to connect for the common man.
Fully ritual oriented, which you will notice as you enter the premises located in Mysuru.
What is there to learn?
Simple, direct marketing with what people can connect to. Clear understanding of the section of the society which are probable followers of the ashram. Added attractions to enhance visit experience and revenue generation include multiple temples, botanical garden, light show etc.
Religious Startup 6
Rama Chandra Mission
Name: Rama Chandra
Headquarter: Hyderabad, Telangana
Website: https://www.srcm.org/
What is offered: Meditation, Satsang, Frequent Get togethers
Branches: Worldwide
Meditation techniques with the support of an trained abhyasi is the starting step. They follow a very practical, self hypnotising, cleansing concept., literally borrowing from the common cleaning tasks.
But, follows a very aggressive multi-level marketing system. One abhyasi brings in another, the more you bring in the higher rank you get, and become accepted as a preceptor, one who is higher in the pecking order.
While elaborate rituals are avoided and probably shunned, convenient elaborateness is followed in conducting and practising meditation sessions, with satsang and so on.
Highly successful as the complexity and detailing attracts many degree holders and their associates. Further, the get togethers and hot food in the canteen are an added attraction.
Operates on a cult narrative.
Religious Startup 7
Amruta Mayi
Name: Sudhamani Idamannel
Headquarter: Kollam, Kerala, India
Website: https://www.amritapuri.org/
What is offered: Initial Hug and a Close Darshan, Teachings, and a Perceived Higher Quality of Life
This sage offers a unique proposition. A hug which will instantly change your body and mind. There is no mention of what it does for you. It is for you to conclude. Many Indians do not have the culture of hugging and exchanging pleasantries. Body touch is a basic animal requirement. The hug one gets from Amruta mayi is a unique proposition. You become familiar, you feel accepted, and at ease in the surroundings.
Which takes you to the next stage of listening to the lectures and get tutored in spirutality.
The ashram takes active participation in social activities, and occupies the mindspace of the public as do gooders.
Ranked as a powerful women, well networked and influential.
Students who have read the post carefully will start seeing a pattern emerging.
An initial offer, or an attraction, a means to engage you through lectures, events and rituals.
And, get you to be physically involved, offering free services and if interested open up your purse strings.
Religious Startup 8
ISCKON
Name: Abhay Charan De
Headquarter: Mayapur, Bengal, India
Website: https://www.iskcon.org/
What is offered: Spirituality
The initial offer of this startup, now a highly successful 850 branch movement, is free form dancing in public place openly, breaking all the inhibitions you generally carry when moving around in public and giving you a sense of relief.
Simultaneously, you recite "Hare Krishna" and kind of enjoy the exercise of satsang. The other offerings are a temple, a place to go, good eating joints and a modern stylish temple infrastructure.
The initial success in USA gave this startup the push required to scale up quickly.
Religious Startup 9
Ramdev
Name: Ram Kisan Yadav
Headquarter: Haridwar, UP, India
What is offered: Yoga, and Ayurvedic Products
The initial offer is free yoga classes on TV, and YouTube, a high profile support of the Govt.
The yoga teacher, Ramdev, has become a brand unto himself, like Amitabh Bachan.
When Baba Ramdev, started out his ayurvedic unit, his name associated with good health, gave the products a multi million dollar push in the market.
Rapid scaling up of products without loosing time, the company Patanjali was able to people to taste, use its various products and the slightly reduced prices gave it all the plus points to achieve a sales of Re. 10000 Crores.
There are many aspects to learn from Ramdev the brand.
First, the principle of association.
A brand should let people instantly associate a product with a quality, or a perceived benefit, or an attribute.
Second, the principle of credibility.
The brand should make people believe what the brand message conveys, without a second thought or hesitation.
Third, the principle of affordability or value for money.
If you carefully study the yoga videos of Ramdev, you will see all the products come with a brand name wherein all the three principles of branding is adhered to. Baba, frequently mentions in his yoga classes the affordability of all his products.
Lessons for startups:
All the bold lettered words in the above text are lessons for you.
Further, note this point:
Niche targeting is very important
When startups start, the fund availability is scarce. So, they have to choose a niche and build client base. All resources can be put to build expertise in the niche area and subsequently expand.
First among equals is important
Most startups start as a team and do not have a final decision makers which can harm the take off. So, have a clear first among equals
My suggestion is do have an leader for a certain period and rotate.
Team is also important
Choose your team carefully based on the core skills you require.
Orders are important
Focus on orders not on impressing people. The money you get from executing orders is much more value than seed or own capital.
Presentation is important
Package everything you have well. It is most important. Websites are important. All of the above have Super websites. I have listed them above, check them out.
Very Important
All of the religious startups have no technological innovation. Students have to note this and give them the value they deserve keeping this in mind. What I mean is they are religious startups.
Remember, as a student startup you should rely heavily on technology to keep growing.
Note:
This is a commentary on religious startups from a startup consultant. This is one of the motivational startup articles aimed at the beginners urging them to look at successful enterprises in India.
Summary:
All of them dress uniquely – identification is quite easy, none dress in formals
All of them branch out to USA, or UK in the first phase, the large Indian population, and the power of the currency
All of them have a unique initial product
All of them have a clear branding strategy
The face of the startup is known to everyone. In case of Ramdev Baba, the second in line, Baba Balakrishna is asked to dress in a simple dress, and maintain uniqueness of the face of the startup
All of them speak in measured tones, and simple logic
Actresses and popular people are given a prominent place for easy publicity and acceptability
These are all live cases of religious startups in India, thriving by the day.
Do you have any product or service which can service this market?
Most important:
Identify a need.