As we have moved from Mysore to Hyderabad changing Aadhar Address, getting a new Gas Connection and steps to settle down are in full progress.
I have shifted homes some 18 times in my life. This one has been the most quick and comparatively easy, thanks to Shri. P. Venugopal, Shri. CDN Rao, and Shri. Giri.
But settling is not so easy, even though several issues have become easier to handle, thanks to Shri. Modiji. For example, shifting our accounts has been effortless. It took 15 min on Yono app, and one visit to SBI office. People may say, how is Modiji related to this? Well, that is for another day.
And, we got into a hiccup in changing our Address in Aadhaar Card. Changing my wife's card address was no problem. But, having no base document showing proof of address, I was told I need to get a Gazetted officer's signature on a self declaration statement.
I went to Vivekananda Nagar office, in Kukatpally, at about 12 Noon yesterday. None were there. At 4 PM. No show. While walking back, with no hope, I just check into an LIC Policy Service Centre, office of Shri. Chiranjeevi Reddy, to enquire whether someone can help me to get Gazetted officer's signature.
I was told to wait, as Shri. Chiranjeevi was not in office, but he can help me out. This was told me by a gentleman standing near the office.
I realized if someone else has this opinion about Shri. Chiranjeevi, then there must be some truth in it, would like to meet him.
In a few minutes, Shri. Chiranjeevi arrived, a slim, well dressed and agile man.
I introduced myself very briefly. He was quick to respond, immediately grasped the issue at hand, and told me meet the Principal at ZP High School, Yellamma Banda (Hyderabad).
He also told me that if things do not work out for some reason, give me a call.
This sealed the issue. I was assured that this will work and also realized Shri. Chiranjeevi Reddy is good at his job.
Meanwhile, his friend, who was present there told me about an alternative and the directions.
Shri. Chiranjeevi Reddy, quickly went inside, took out a paper and started drawing something. Little did I realize, he was sketching the direction from a landmark near my home to the ZP High School.
Quicker and clearer than Google Maps.
He also marked out a nearby ZP High School, and put a cross on it.
This is the map.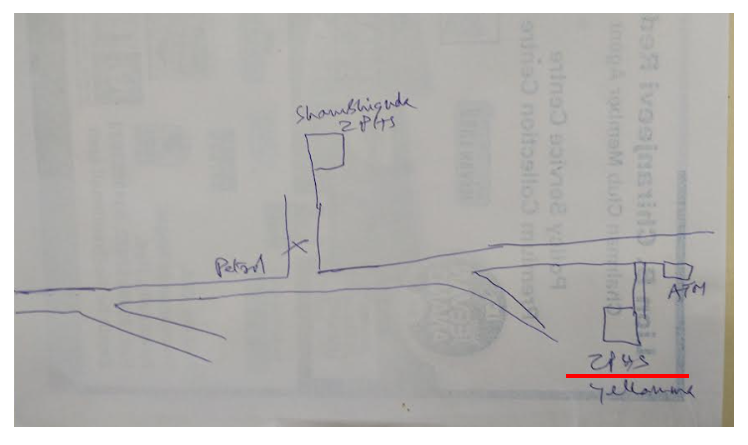 True to his confidence in directing me to meet the Principal ZPHS, the dignified lady Principal at ZPHS was very receptive and helpful, and without any delay signed on the Address self declaration document, and asked me whether I can help the school in any way, maybe a motivation lecture for out going 10th standard students.
I told her, will be glad to do it. I am always willing school students.
BTW: the direction map to the school was written on the back of Shri. Chiranjeevi Reddy's business flyer!
No wonder he is a member of the Chairman Club member agent of LIC!!