One day, some 10-12 years back, a relative of mine called and asked me "Why do you Know Nagesh?". The question itself was weird.
Anyway, I had two choices. One, tell about the positives of Nagesh and justify the relationship. Two, give a matter of fact answer. I choose the later, as I felt, justifying will be a sort of Defence, and doing so would not add any value.
One of the reason's for my long friendship, almost 30 years, with Nagesh, is that I realized friendship with him is a genuine thing.
Nagesh has several friends.
One such friend is Shri. Chandrasekharan.
They stay in Chennai, and their friendship is 60-70 years old. Much older than mine.
Shri. Chandrasekharan family is large by today's standards. Four brothers, the eldest Shri. Chandrasekharan himself, 72 years of age, Smt. Alimelu 92 yrs of age, mother of four brothers, Shri. Sankaran 70 years of age, Shri. Bhaskaran 67 years of age, Shri. Kalyan Sundaram 60 years of age.
In an age when relationships are deeply immersed in money, and children generally do not take care of parents, Shri. Chandrasekhar and his family are unique.
They have made arrangements in such a way that one of the son is always in attendance for their mother. They are able to do this, even though none of the sons except the eldest, does not stay in Chennai. One son stays in Hyderabad, one stays in Vijayawada, and the other stays in Pondicherry!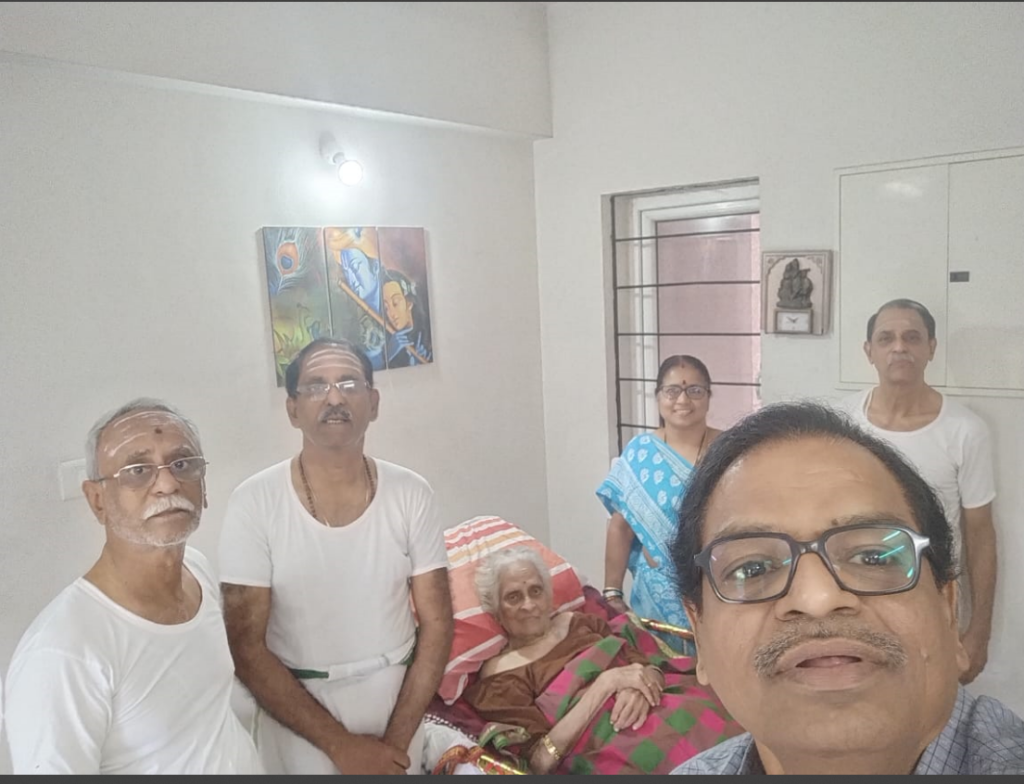 In the above pic, you see Smt. Alimelu, 92 years of age, being looked after by three of her sons.
It is obvious that Shri. Chandrasekharan and his family are unique. They deserve all the praise. True to his nature, Nagesh and his wife went to Chennai to be with Shri. Chandrasekharan's family.
Their dedication makes us all think about Parent's Children relationships and ask ourselves deep questions. One such question, every youngster should ask himself or herself is:
How did your father and mother treat and look after their elders and parents?
Just calmly think. If they treated and looked after their parents well, then you can be sure, they know how to look after children also well! In fact, very well!!.