A Special Thanks to:
Mr. Jason Brown
Alumni & External Relations
Brigham Young University
Provo, UTAH, USA
(801) 422-7579
When my son Vamsi, contacted BYU alumni – for buying a couple of T Shirts for my birthday on Jan 17th, he was thrilled when told by Mr. Jason Brown, that they will send it. True to their word, a box of goodies were sent.
The box of goodies arrived by FedEx and here is a pic.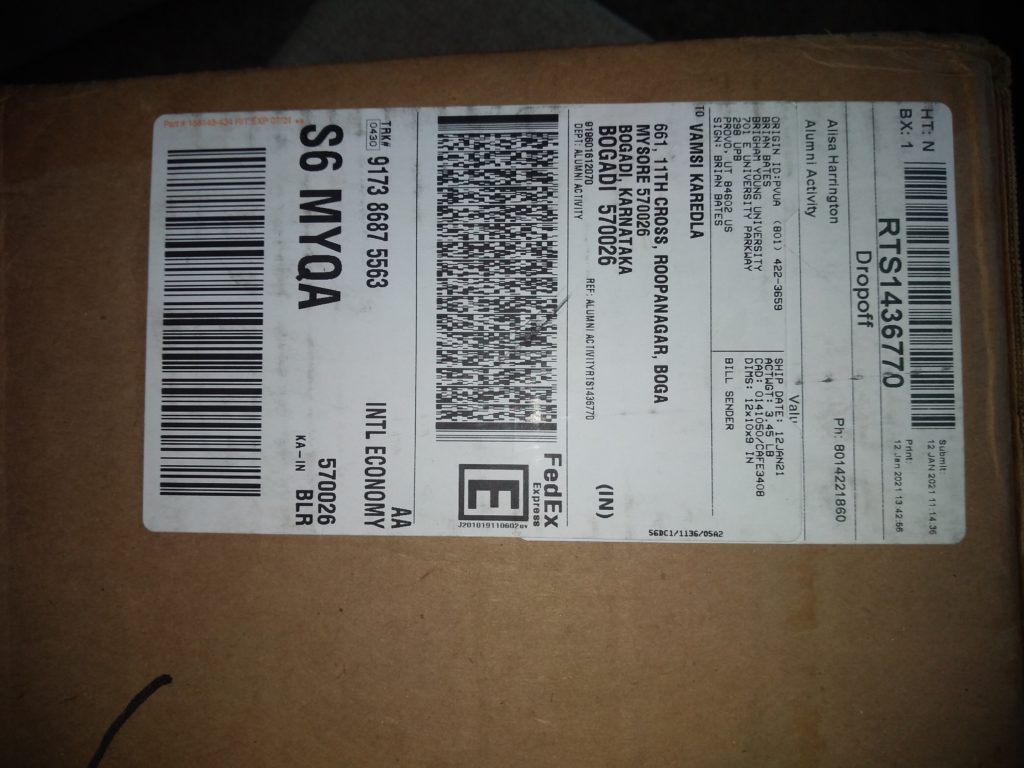 Included in the box were 2 T-Shirts, of two sizes (just in case!), a Cougar Banner, a boxful of Mint Chocolates and a pair of BYU socks and lots of good wishes.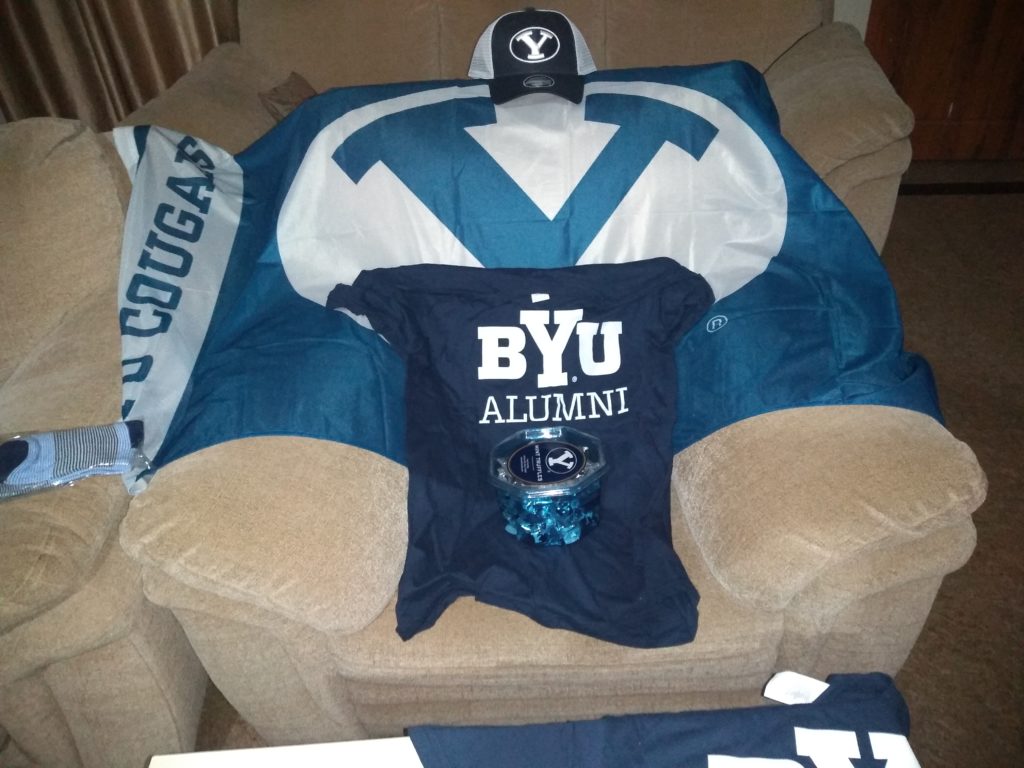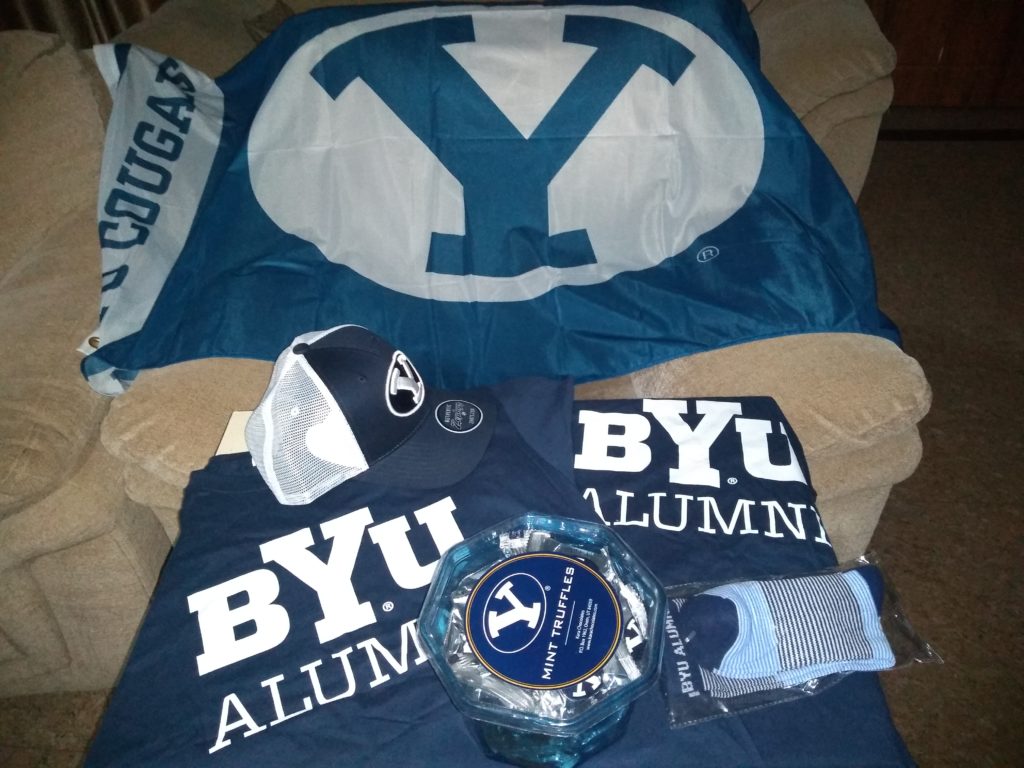 There are some gestures which are special and lift you up. This is one of those rare ones.
Isn't it awesome that a University remembers its innocuous student (I am no Bill Gates, nor a Political Leader), and sends a birthday box of goodies marking 30 yrs of completion of the degree?
It was a wonderful gesture. Thanks, once again.
BYU shaped my thinking on how technology may evolve, how to package your products including pricing and features, how to gain customer confidence and how to develop a macro picture of your business with respect to the industry as a whole.
For me it was worth the time and money spent to study at BYU.
Back in mid 1990, as I was about to leave for US, for doing a Master's in Technology Management, a few friends and relatives had come to our home in Bengaluru.
A few of them were frequent fliers to USA. had stayed, and worked in reputed institutions in that country.
When I told them the name of the University I will be going to, Brigham Young University, most wished well, and blessed that my dreams come true.
A few were skeptical.
Reasons could be many.
I didn't blame them at that time, nor I do now.
I was an average student oscillating between mediocrity and excellence for most of my student life, expect for my final year in Engineering and two year stint at Government Tool Room. It was these flashes of excellence which prompted my parents to invest in my education and give me a fair chance.
Their bet won.
Backed by parents good wishes and a stint at a top University, I have been able to create a green field startup and held my ground for several years, nearly two decades – vkinfotek.com
My wife and myself have built a successful ERP knowledge provider startup (we crossed 10,000 copies recently), one of the first few in India to sell software books on the internet (1999).
Subsequently, I moved into aerospace and defence component manufacturing, and my wife has moved into IFS ERP consulting, IFS is a Swedish product competing with SAP.
Great institutions let students realize their true potential. At BYU, one is given the environment to discover oneself, get mentored by experienced Professors who subtly and ably guide their students and importantly Provo is a great small city to live in.
BYU is a hidden gem for people from this part of the world.
Let me tell you why BYU is an ideal University to go to.
Firstly, let us discuss about decent behavior.
The culture at BYU was a revelation for me. It was an extension of what my parents ensured at home. People were friendly, and accommodating and transparent.
Next, trust.
Right on day one, I was pleasantly surprised when the BY University immigration officer cleared my transfer from another University, without any hitch. If the immigration officer had put hurdles in my way, he could have – considering that one is not allowed to change Universities within 6 months of admission (the I20 form states it explicitly), I would have had to return. But, something inside me told me, this is USA, if you are honest and truthful, someone will listen. He did. When he asked me, why did I shift from the previous University, I told him, there were no permanent faculty in Mechanical Department and most were guest lecturers. No more questions. He knew my concerns were legit.
Third, recognition without bias.
I was conscious of the fact, not being white made me stand out in a crowd and in class. And, I expected many people to be racial in varying degrees.
Never once, was I made to feel slighted or ignored.
Professors know how to motivate students
One Professor, a former McKenzie Consultant was teaching operations research. He mentioned in class after a test, students who are quiet in class have done well in the written test. I was one of the quieter ones.
I did well in his class.
Professors reward good ideas
I gave my Professor (Dean of Man. Dept.), a note stating what can be done to promote manufacturing particularly in metal cutting domain. After reading the article, he simply said work with me in the magazine section. Spontaneous offer. Can it happen ever in India, considering the layers of bureaucracy we have?
Made Great Friends
Made many American friends. The numerous times we met at different homes and discussed Project reports were fun and enriching. During the cold winters one of them would drop me off in my apartment.
I am in touch with one of them even to this day. He is Gary Craig, one of the most friendly Democratic Republican you will ever meet. Unassuming and friendly.
When my son scored a decent rank in National Law Exams and secured an admission in a premier law college in India, Gary recommended that my son read the Federalist Papers. These papers had a major impact on my son's approach and understanding of law. It was thoughtful of him to suggest the appropriate read for a young aspiring lawyer.
Spontaneous, encouraging and supportive – an environment where all have an equal opportunity to succeed. This is BYU for you.
Prof. Garth Hanson
Public speaking and presentation is an important skill needed to succeed. Prof. Garth Hanson, a renowned Prof. on this subject, taught us the art of public speaking.
When he said "ok" to my selection of presentation topic – "Why Americans should stop playing football?" – and gave a decent presentation, my stage fear vanished from then on.
Great Internships
I was given an opportunity to intern at Boeing. BYU has a long standing relationship with Boeing. I am positive and hopeful it continues to this day.
Not Everyone Knows
Few in this part of the world know that BYU has one country's best Law College, a reputed Management School, known as Mariott School of Management, and a top football team.
Great Projects
During my stay at BYU, I was involved in a project, which was about molding carbon reinforced plastic, the application being reducing bicycle weight. This was a project in the Manufacturing Department in the Crabtree building.
If you want to more about this progressive conservative university visit this website – BYU
My son has promised one day he will drive me from Washington DC to Provo. Let us see if that wish is fulfilled.

I am ready.