Product Description
There has been a lot of talk about the state of economy, nowadays. Many eminent people, Ms. Kiran Mazumdar, Dr. Swamy, Dr. Manmohan singh and all of the media have been saying economy is in bad shape.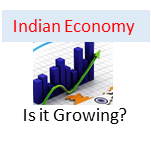 Shri. Narayan Murthy, co-founder of Infosys, and Infosys foundation, has endorsed the economy is in good shape and poised to grow.
His comments are like fresh air in a polluted environment.
In fact, it is almost as if eminent economists have to get their basics of reading economic data right.
Before, we analyse his remarks let me bring up a leadership aspect in this whole thing.
Peter F. Drucker, the celebrated Management Guru, once famously said, a leader is an uncommon commoner.
Of all the numerous dooms day predictions and negative comments about the economy Shri. NRN has put things in perspective.
Everyone has a viewpoint and rightly so. They have read the economic data and interpreted it. Whereas, Shri. NRN has summed up the past, the present and projected the same to the future. Listen to his opinion in the video and they are self revealing.
Shri. NRN is an uncommon commoner and a natural leader. Thank you, Sir, for showing us the way forward.
Another important point to note in this video is Shri. NRN saying investor confidence is high. This is a significant point as he knows what he is talking about than most of us, as he has founded one of the biggest software firm in India, presently is mentoring one of the best engineering colleges in South India and has his own investing firm catamaran ventures.
Till I heard and saw this video, I was kind of confused. Because, I still trust the present Govt. because of the steps it has taken against black money and corruption and working on ease of business index and so on. But, on the other hand, figures do not lie. Economic data shows growth is falling quarter on quarter.
But, let us all remember, we are growing at a reduced rate.
The key point I want to discuss here is what Shri. NRN has specifically said about equitable distribution of wealth.
Being the gentleman he is, he has stopped short of saying any growth without equitable distribution is a sin. In fact, in many of his earlier speeches he has talked about the same.
If you think of this deeply, you will realise how true this is and this is the way it should be. Whatever the rate of growth, the poor have to get all the basic services and the nation needs to feel secure. On both counts the country is doing well.
Internal security has been truly at high rank from the past many years, I have forgotten when the last attack in India (apart from those in Kashmir) have happened. Remember, the attack on Gokul chat in Hyd? A busy and favourite chat shop in Hyderabad.
When Shri. NRN says equitable distribution, we should also consider equitable distribution of funds and support.
This is where I want to bring in MSMEs and of course startups into the picture.
We have supported the poor with bank accounts, and insurance and easy loans.
All of us know, cost of funds is a huge problem in India. Unless, you have dollar sales or avoid paying taxes (meaning you run a seconds business), running an enterprise profitably with no payable, and manageable bank debt is quite difficult.
With this in picture let us listen what the eminent economist Shri. Bibek Obroy has to say about the state of the economy.
Broadly, there are two takeaways from what Shri. Bibek has to suggest.
One, there is a problem with the economy and two, a slew of suggestions for the Govt.
Notice the difference between how an entrepreneur and an economist approaches the problem of reduced growth.
Now, let us look at one of the measures the ministry of MSME is undertaking to support the sector as told by Minister for MSME. Listen to this:
One of the solutions is creating an MSME portal similar to Amazon.
I do not know who is advising the honourable Minister, but this is a no go.
Who will market the portal? And, which MSME will be positioned first, in the search results? How will you rank the MSME? And, what special products and services do the MSMEs have to offer? Are the prices competitive in the world market? Chinese manufacturers and vendors sell products by weight. How will you compete with that?
Equitable distribution for MSMEs is central to economic development and any meaningful development can only happen if the large pool of MSME get access to funds to reinvest, start innovating and growing.
The Govt. should be thinking of how to get MSME innovate, and link funding support to the ability to keep pace with technology. MSEs should think of innovation as a means for survival and growth.
MSMEs should also, decide to register for GST, do only first business, stop doing seconds, and function as a responsible manufacturing company.
Let us now discuss, the herculean task of reviving Indian MSME sector with the use case example of Aero Component Manufacturing and boosting Startups.
Aerospace Component Manufacturing Industry
The aero component industry is at crossroads and needs support.
You may want to ask, why is it so?
These are few important reasons:
Operating culture
Already invested
Unable to maintain strict manufacturing standards
Production in Engineering – the new practise
Let us discuss each one.
1. Operating culture
Manufacturing companies are used to operate in a juggad fashion without proper documentation. Consequently, they are prone to committing silly mistakes and have taken a beating under the new GST regime, which reconciles invoices.
There is an urgent need to change the operating culture.
2. Already Invested
Many small sized companies, there are 60 – 70 aerospace companies Bengaluru and 500 + machining centres are already invested in capital intensive machines and have running loans on them. They need a fresh dose of capital, for buying high precision machines which can manufacture aero components. [Tolerances of < 20 microns].
Without adequate capital for fresh and latest machines there is no way they can machine aero components.
The Govt. has to come out with a policy to encourage existing MSME aero component manufacturing companies. This policy should consider existing aero component manufacturing companies, their track record and provide them low cost capital to buy and operate new machines.
3. Strict manufacturing standards
Aero component manufacturing requires strict manufacturing standards. Documentation is a big challenge. Frankly, I do not know how to encourage companies to practise strict documentation.
4. Production in Engineering – The new practise
Nowadays, all production, except machining is done in the engineering department. Which means to say, analysis of drawing, fixtures, cutting path simulation, and cutting tool design is done in the engineering section. Only, after all this is done, the machining process is commenced. This requires team work, excellent co-ordination and the leader should have a broad whole organisation view rather than a narrow fixture based view of the engineering section.
Few companies are aware or follow this best practise.
Aero component business is set to grow as large companies like Boeing, MOOG and Airbus are in India and more are setting up shop.
A thriving aero component manufacturing can not only boost employment but also boost export GDP growth.
STARTUPS
It is the startups which can propel us to the double digit growth. A startup needs an uncommon commoner to lead it.
Startups can come out with technologies which can open up unexplored markets. And, students are the best bet.
The Govt. of India has come out with a comprehensive plan to encourage startups. It has roped in all engineering, management and medical colleges to setup TBI (technology business incubators). TBIs host startups and they become eligible to avail grants and seed funding.
Sadly, colleges are ill prepared to implement this. Fully involved in academics, they do not have the skills nor the eco system to boost startups. Essentially, create startups.
Some colleges are using this scheme to build work spaces and renting out these spaces to established companies, and earning rental income in the process. There goes our Startup India Startup India program for a toss.
I mentored for a short period six student startups and none of them have any support from the educational institutions. This is a small indicator how it must be across all colleges.
What do startups need?
Each startup needs a different type of mentoring assistance.
A food startup needs advice and support on how to create a marketable menu, setting up a kitchen, zeroing on the market, pricing and funds flow management. Food businesses start earning on day one of operations and management of sales proceeds and debt is critical.
A medical startup which has a solution for last mile delivery of Govt. medical services and schemes needs a different mentoring program, involving helping android based app development, product design, etc.
Mentoring is a critical need for startups. And, only an entrepreneur can do this job. This is very important. A professor will find it difficult to promote entrepreneurship as the approach to entrepreneurship is different ball game.
Startups are the answer to propelling India's growth story. Is the academia ready? Not at all. I have visited a dozen engineering and medical colleges and sadly, not even one college has a thriving startup activity or policy.
Time is running out on the startup front. After a decent start a few years ago, things are not going so well of late. The Govt. is now pushing for space startups – cubesats.
To summarise, we need someone of Shri. NRN's stature and wisdom to guide us forward. But, is the Govt. listening?