Many people have started predicting and trying to grapple this question. People more or less are convinced Modiji will do something remarkable on reaching his 75th year. They know he is a man of integrity. A rule applies to him also.
And, Indians are fond of predicting and Judging. So, let us also try and do it.
Let us understand the scene clearly.
Modi is now 71 yrs. Lucky for India. 4 more years to go.
In four years time, the next Govt. would be Two Years into its tenure.
So, my first prediction or whatever you call it, the easy one, is he will contest the Next General Election as a Prime Ministerial Candidate.
Unless, BJP changes the rule for PM's tenure as 2 terms only for an individual!
I would personally welcome such a rule, as the individual would have, in two terms implemented all his plans as Prime Minister, and he would simply be reiterating his earlier efforts. In simple words, freshness would not be there.
In fact, 2 term only rule would benefit every state as all BJP Chief Ministers would have to let go after two terms and this would galvanize and stabilize the political system. And, prompt opposition parties to match up.
Such questions and hopes reflect the reality that there are several structural faults in our system.
And, Modiji, given his legacy and record, would not contest the next General Election is the first possibility. Which will not happen, as explained later.
The second possibility, is he relinquishing his office on his 75th birthday after getting elected and two years into his term.
This has to happen as his legacy would diminish immensely, if he did not.
However, the fact that people have given a vote, so their vote takes precedence over the self imposed 75yr rule, is a possible explanation.
People would not think of him as a statesman if he continued after his 75th birthday and I strongly believe Modiji will not continue after reaching 75yrs.
And, if he chooses this option, he will probably have a Deputy assigned or sounded out before hand so that there are no hiccups when the transfer of power happens.
Fighting the next General Election under Modiji's stewardship is much easier. And, it is politically feasible for the party. As it would make preparing and fighting for the next general election easier. Positioning and selling a new candidate for a general election is hard and Modiji's election in 2014 is an exception.
Personality based elections has arrived in India – a better version than USA. Similar will be the situation for General Election.
All this discussion is only a one sided view. Who will replace him is the right question.
Let us assume, that there are only two probable candidates for the post of PM.
One, is Shri. Amit Shah, and second one is Shri. Yogi Adityanath.
If Shri. Amit Shah becomes PM, there is no problem as regards replacement for him as Home Minister. Or better put, there will be no immediate problem.
And, as he is from the Central Cabinet and as PM he continues as the head of the Cabinet.
If Shri. Yogi Adityanath becomes PM, who replace him as CM in UP?
In the next 4 yrs Yogiji would have just about midway in building BJP in the state and he would require another term make it unshakeable in UP. Aka Gujarat.
And, there is no strong leader in UP yet, as far as we can see. However, things can change and BJP may project another leader in UP, if Yogiji was to become PM.
Lucky for BJP PM Modi reaches 75 yrs midway through the next term.
So, what do we have?
UP is very important, and BJP needs to be heading the state for the next 15 yrs to ensure it retains centre.
Yogiji is needed in UP.
As of now, there appears to be no second line strong UP leader.
On the other hand, Amit Shahji thoroughly knows what is happening in the Centre and he will easily push Modiji's initiatives to their logical end. Which is also very important.
A strong presence in UP is very important to Winning the next subsequent General Election.
However, politics is full of surprises. Suppose, Yogiji gives BJP a resounding victory in UP, then he will be tried in states which are going to elections in the next year. If there is traction for his public meetings in non Hindi speaking states, then things will be much easier for BJP. His impact in states other than UP is not very well known.
Remember, Amit Shahji has given BJP victories in several states. Telengana and Andhra Pradesh are theirs for the taking. Jagan has tied himself up in knots. His party's only strength now is ability give hard cash to voters. I believe, in the next AP state elections, voters will take the money he will offer and vote for BJP and Jana Sena.
Voters do take revenge in their own way. Mark my words.
BJP and Jana Sena are quietly working to a script, which will culminate with Modiji and Pawan Kalyan meeting on stage and send the crowds into raptures and overdrive. For that Modiji has to gain more acceptance in Andhra Pradesh and Telangana. I am not too sure how he will do it.
And, lot of build up is required. Vizag ukku factory resolution is one big step. Which may happen. Recognizing Damodar Sanjeevaiah, Alluri Seetaramaraju, Snr NTR will go a small way in building the tempo.
In Telangana, the father son duo of KCR & KTR are grappling with the problem of smooth transfer of power as many leaders in TRS do not seem to be favorable to KTR becoming the power centre.
BJP is going to do well in both states, given the way things are moving and Amit Bhai will have more feathers in his cap from these two states.
There are 5 States go to election in 2022, that is by March.
Goa
Manipur
Punjab
Uttar Pradesh
Uttarakhand
Wins in 3 states in the above states, with Amit Shahji as the driving force, would decide the future. The Next PM for me is settled. If it is a two horse race, Amit Bhai will be the next PM. With, Yogiji as Home Minister in soon after.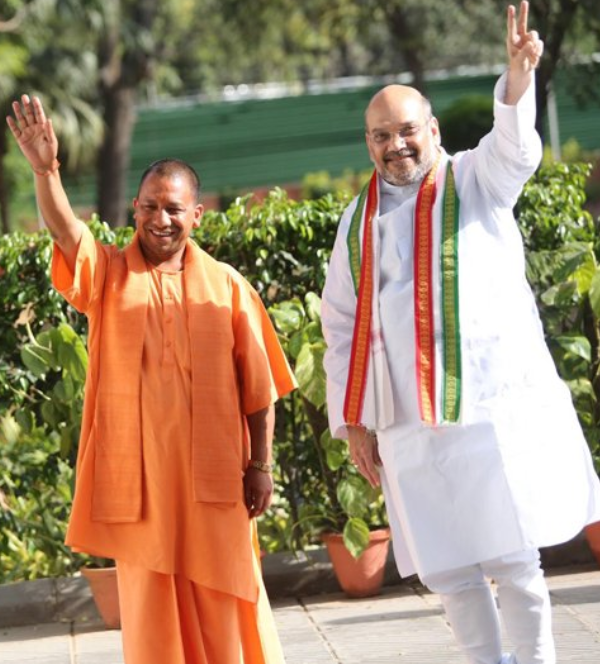 My conclusion would be, Modiji will retire at the stroke of midnight hour on his 75th birthday, 17th Sept 2025, while India, he steered to enjoy relatively security sleeps, and hand over power to Amit Shahji.
He himself, unlike Nehru and Indira Gandhi, will not hang around, will vacate his house in Delhi's Lutyens and retire to his farmhouse in Gujarat, a tired but a satisfied man.